With the Coronavirus (Covid-19) situation evolving rapidly, I've rounded up a list of useful resources for anyone looking to help or be helped.
I'm in touch with local volunteers, businesses, community groups and Leicester City and County Council's and this page will be regularly updated with information on any general and Leicester initiatives providing advice and assistance at this time.
Support for vulnerable people
People with underlying medical conditions
If you have an underlying medical condition, you can register for special assistance during self-isolation. You are considered to have an underlying medical conditions if you:
have had an organ transplant
are having certain types of cancer treatment
have blood or bone marrow cancer, such as leukaemia
have a severe lung condition, such as cystic fibrosis or severe asthma
have a condition that makes you much more likely to get infections
are taking medicine that weakens your immune system
are pregnant and have a serious heart condition
Assistance for the elderly
Age UK Leicester Shire & Rutland: For more information on the charity's response and how to help out, click here, or call or email.
General list of useful numbers that may be useful for older people seeking support:
Please see the foodbank section below for food parcels and hot food delivery all serving the elderly in Leicester East.
Food banks often struggle to get enough volunteers and acquiring certain staples foods (pasta being the obvious one). If you have the means, most of them also accept financial donations as well as food. You can find your nearest food bank on The Trussell Trust
A list of Leicester food banks can be found here and are providing emergency food and supporting local people.
Please find some specific and additional food banks for ease of access below;
Many supermarkets are offering specific hours for the elderly to come in. They're also encouraging those who can to shop in-store in order to free up delivery slots for more vulnerable people and those in self-isolation
TESCO : Are currently offering vulnerable customers priority shopping from 9-10am on Mondays, Wednesdays and Fridays while NHS workers get a priority hour on Tuesdays and Thursdays when they show their ID in store. Both groups also have priority during the browsing hour on Sundays before tills open. For online shopping click here.
ASDA : NHS and care workers get priority hours on Mondays, Wednesdays and Fridays from 8-9am as well as the browsing hour on Sundays. For online shopping click here.
MORRISONS : Priority hour for NHS workers, who can shop from 6-7am Monday Saturday. For online shopping click here.
SAINSBURY'S : No longer has reserved hours but gives priority entry for NHS and care workers from 7.30-8am Monday-Saturday and for elderly, vulnerable and disabled customers from 8-9am on Mondays, Wednesdays and Fridays. For online shopping click here.
CO-OP : priority hour for NHS workers, care workers and vulnerable customers is 8-9am Monday- Saturday and 10-11am on Sundays. Aldi – stores are opening for elderly and vulnerable customers half an hour before regular opening on Monday-Saturday and half an hour early on Sundays for emergency and care workers and Blue Light card holders. For online shopping click here.
LIDL : no priority hour but priority entry is given to those who might have difficulty queueing. For online shopping in conjunction with buymie click here.
Mental health and isolation support
Don't suffer in silence. We know it's going to be a difficult time for everybody over the coming weeks but there's always help out there. Here's a list of helplines from the NHS that can offer you and your loved ones support.

Campaign to End Loneliness

have published a helpful briefing advising you on how to deal with the long-term challenges of self-isolation.
Masjid Abu Hurairah
[email protected]
Please email and someone will call you. Dedicated lines for Males & Females.

Mutual Aid Leicester COVID-19
Join facebook page here
Shopping collection/befriending/prescriptions

The Prison Advice and Care Trust (Pact)
0808 808 2003 or [email protected]
Support for anyone who has a family member in HMP

LeicesterWoman 4 Change
07568 059 078
Language Support and assistance for families

Adhar Project
07931 114 034
Specialist Mental Health counselling for BAME communities.

Leicestershire Life Links
Freephone 08000 234 575
www.rflifelinks.co.uk
Listening service during lockdown period. 7 days a week 9am to 5pm. One to One Support for people with mental health problems

Mind
0300 123 3393
Confidential support for people with mental health problems.

Advice for Teenagers during Covid-19
Please see link here for advice for Mental Health Advice for teenagers during Covid-19. This includes help for those who have just received GCSE and A-Level results and ways to keep your mind and bodies active during this difficult time.
A mutual aid group is a group of local people who organise informally to support one another and the needs of their local community. It is independent from any organisation or official body, and it is led by local people who volunteer their time. The groups are organised online either through Facebook or WhatsApp.
What you could be doing, examples include:
Reaching out to people in the community and providing information and advice
Dog walking if people are unable to get out themselves
Providing a friendly phone call service to help people that may be isolated or lonely
Picking up shopping for those that can't do it easily themselves
Posting mail
To join your local mutual aid group for your ward in Leicester East please contact Priya Thakrar via email and you can also join the Leicester East Facebok and What's App groups using the buttons below.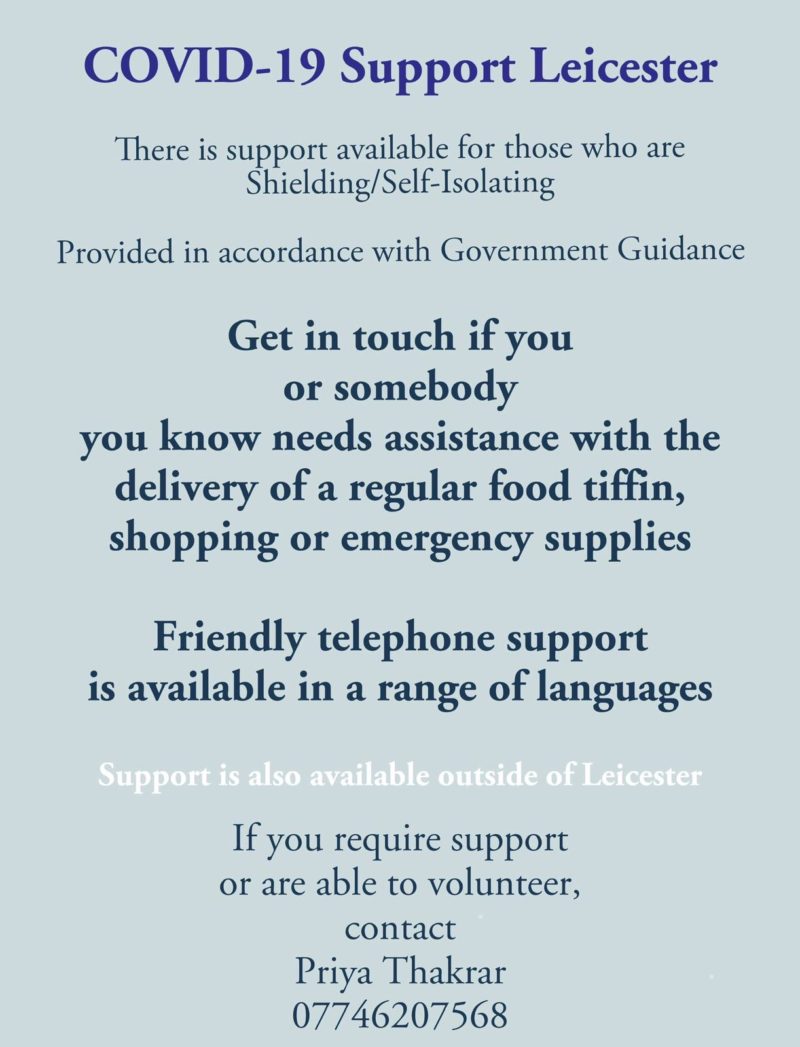 If you would like to sign up to volunteer to help during this time then please visit the Voluntary Action Leicester page to sign up.
Bereavement and Funeral Services
Financial Support for Individuals
Citizen's Advice

and 

Step Change

 have published helpful advice on support for anyone struggling to meet their living costs, outlining how you can access emergency loans, access benefits payments early and other vital resources such as food.
You can get assistance with utility bills by calling your provider and telling them you are self-isolating. If you have a prepay meter, they will give you two weeks of gas/electricity and if you have a smart meter, they will top you up. 
Charity Link
0116 222 2200
Emergency grants in the form of essential goods for those
experiencing financial hardship due to the Covid-19
Leicester City Council
[email protected]
Difficulty paying Council tax and rent
Ummah Welfare Trust
0800 40800 / 0120 466 1030
For Families in financial difficulty
Zinthiya Trust
0116 254 5168
[email protected]
Emergency food, Gas and Electric top ups, money, debt & energy advice and domestic violence support
Financial Support for Business
Official government information on what support is available for businesses can be found here.
If you're doing something to help out or if you think there's some information that needs to be included on this page, please drop us an email with some details to our website team.