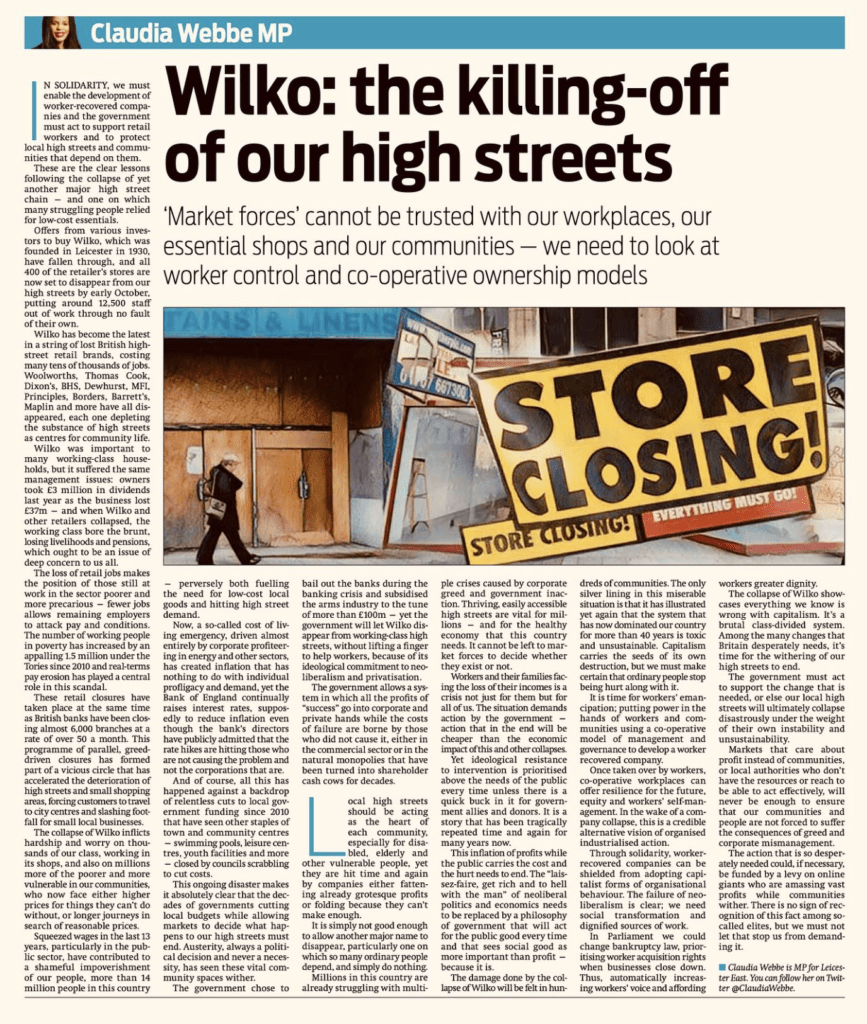 Wilko: the killing-off of our high streets
By Claudia Webbe MP
It's clear 'market forces' cannot be trusted with our workplaces, our essential shops and our communities — we need to look at worker control and co-operative ownership models, writes CLAUDIA WEBBE MP
IN SOLIDARITY, we must enable the development of worker-recovered companies and the government must act to support retail workers and to protect local high streets and communities that depend on them.
These are the clear lessons following the collapse of yet another major high street chain — and one on which many struggling people relied for low-cost essentials.
Offers from various investors to buy Wilko, which was founded in Leicester in 1930, have fallen through, and all 400 of the retailer's stores are now set to disappear from our high streets by early October, putting around 12,500 staff out of work through no fault of their own.
Wilko has become the latest in a string of lost British high-street retail brands, costing many tens of thousands of jobs. Woolworths, Thomas Cook, Dixon's, BHS, Dewhurst, MFI, Principles, Borders, Barrett's, Maplin and more have all disappeared, each one depleting the substance of high streets as centres for community life.
Wilko was important to many working-class households, but it suffered the same management issues: owners took £3 million in dividends last year as the business lost £37m — and when Wilko and other retailers collapsed, the working class bore the brunt, losing livelihoods and pensions, which ought to be an issue of deep concern to us all.
The loss of retail jobs makes the position of those still at work in the sector poorer and more precarious — fewer jobs allows remaining employers to attack pay and conditions. The number of working people in poverty has increased by an appalling 1.5 million under the Tories since 2010 and real-terms pay erosion has played a central role in this scandal.
These retail closures have taken place at the same time as British banks have been closing almost 6,000 branches at a rate of over 50 a month. This programme of parallel, greed-driven closures has formed part of a vicious circle that has accelerated the deterioration of high streets and small shopping areas, forcing customers to travel to city centres and slashing footfall for small local businesses.
The collapse of Wilko inflicts hardship and worry on thousands of our class, working in its shops, and also on millions more of the poorer and more vulnerable in our communities, who now face either higher prices for things they can't do without, or longer journeys in search of reasonable prices.
Squeezed wages in the last 13 years, particularly in the public sector, have contributed to a shameful impoverishment of our people, more than 14 million people in this country — perversely both fuelling the need for low-cost local goods and hitting high street demand.
Now, a so-called cost of living emergency, driven almost entirely by corporate profiteering in energy and other sectors, has created inflation that has nothing to do with individual profligacy and demand, yet the Bank of England continually raises interest rates, supposedly to reduce inflation even though the bank's directors have publicly admitted that the rate hikes are hitting those who are not causing the problem and not the corporations that are.
And of course, all this has happened against a backdrop of relentless cuts to local government funding since 2010 that have seen other staples of town and community centres — swimming pools, leisure centres, youth facilities and more — closed by councils scrabbling to cut costs.
This ongoing disaster makes it absolutely clear that the decades of governments cutting local budgets while allowing markets to decide what happens to our high streets must end. Austerity, always a political decision and never a necessity, has seen these vital community spaces wither.
The government chose to bail out the banks during the banking crisis and subsidised the arms industry to the tune of more than £100m — yet the government will let Wilko disappear from working-class high streets, without lifting a finger to help workers, because of its ideological commitment to neoliberalism and privatisation.
The government allows a system in which all the profits of "success" go into corporate and private hands while the costs of failure are borne by those who did not cause it, either in the commercial sector or in the natural monopolies that have been turned into shareholder cash cows for decades.
Local high streets should be acting as the heart of each community, especially for disabled, elderly and other vulnerable people, yet they are hit time and again by companies either fattening already grotesque profits or folding because they can't make enough.
It is simply not good enough to allow another major name to disappear, particularly one on which so many ordinary people depend, and simply do nothing.
Millions in this country are already struggling with multiple crises caused by corporate greed and government inaction. Thriving, easily accessible high streets are vital for millions — and for the healthy economy that this country needs. It cannot be left to market forces to decide whether they exist or not.
Workers and their families facing the loss of their incomes is a crisis not just for them but for all of us. The situation demands action by the government — action that in the end will be cheaper than the economic impact of this and other collapses.
Yet ideological resistance to intervention is prioritised above the needs of the public every time unless there is a quick buck in it for government allies and donors. It is a story that has been tragically repeated time and again for many years now.
This inflation of profits while the public carries the cost and the hurt needs to end. The "laissez-faire, get rich and to hell with the man" of neoliberal politics and economics needs to be replaced by a philosophy of government that will act for the public good every time and that sees social good as more important than profit — because it is.
The damage done by the collapse of Wilko will be felt in hundreds of communities. The only silver lining in this miserable situation is that it has illustrated yet again that the system that has now dominated our country for more than 40 years is toxic and unsustainable. Capitalism carries the seeds of its own destruction, but we must make certain that ordinary people stop being hurt along with it.
It is time for workers' emancipation; putting power in the hands of workers and communities using a co-operative model of management and governance to develop a worker recovered company.
Once taken over by workers, co-operative workplaces can offer resilience for the future, equity and workers' self-management. In the wake of a company collapse, this is a credible alternative vision of organised industrialised action.
Through solidarity, worker-recovered companies can be shielded from adopting capitalist forms of organisational behaviour. The failure of neoliberalism is clear; we need social transformation and dignified sources of work.
In Parliament we could change bankruptcy law, prioritising worker acquisition rights when businesses close down. Thus, automatically increasing workers' voice and affording workers greater dignity.
The collapse of Wilko showcases everything we know is wrong with capitalism. It's a brutal class-divided system. Among the many changes that Britain desperately needs, it's time for the withering of our high streets to end.
The government must act to support the change that is needed, or else our local high streets will ultimately collapse disastrously under the weight of their own instability and unsustainability.
Markets that care about profit instead of communities, or local authorities who don't have the resources or reach to be able to act effectively, will never be enough to ensure that our communities and people are not forced to suffer the consequences of greed and corporate mismanagement.
The action that is so desperately needed could, if necessary, be funded by a levy on online giants who are amassing vast profits while communities wither. There is no sign of recognition of this fact among so-called elites, but we must not let that stop us from demanding it.
Claudia Webbe MP is the member of Parliament for Leicester East. You can follow her at www.facebook.com/claudiaforLE and twitter.com/ClaudiaWebbe