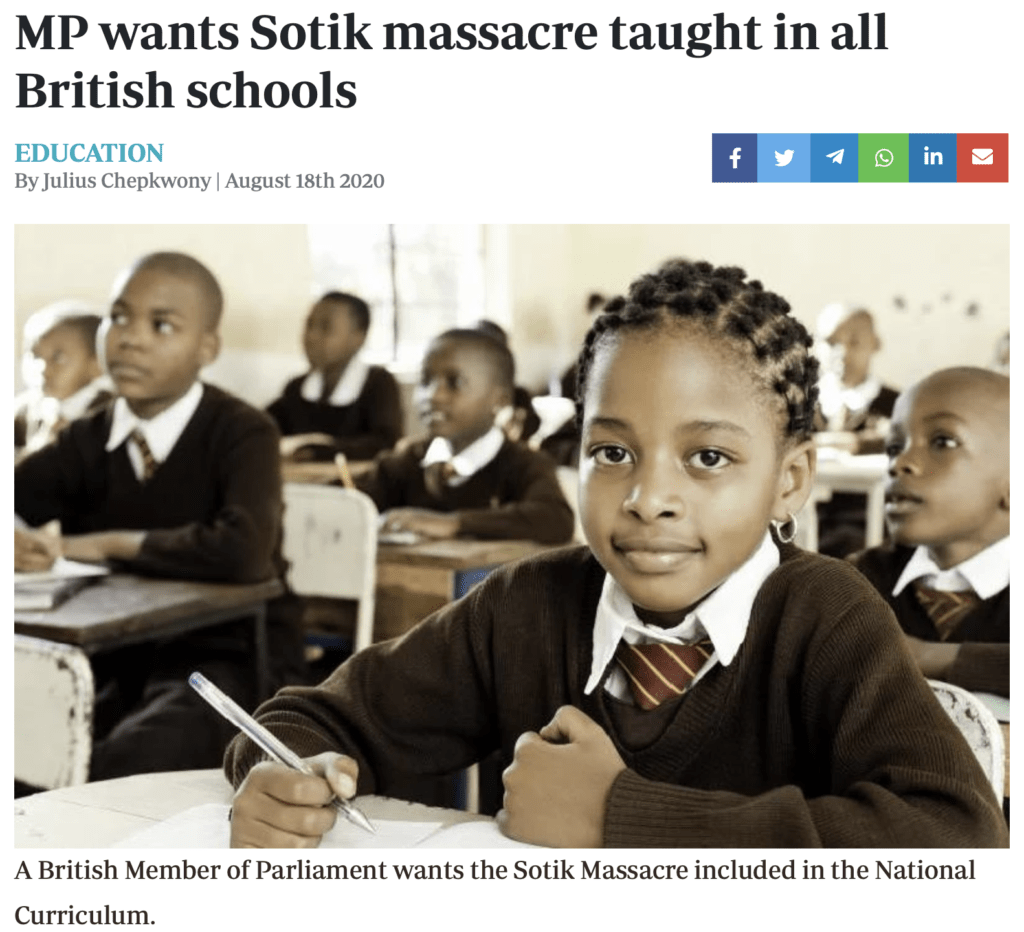 MP wants Sotik massacre taught in all British Schools
Claudia Webbe MP for Leicester East wants the Sotik massacre taught in all British schools.
Claudia Webbe, Member of Parliament for Leicester East House of Commons, London in a Letter dated August 7, to the Secretary of State for Education, House of Commons London, Rt Hon Gavin Williamson sought to have the 1905 Sotik massacre included in the curriculum.
"I am writing to you regarding the Sotik massacre of 1905 and the need for the Government of the United Kingdom to ensure this historical injustice is included in the national curriculum," read the letter.
The call by the MP comes as a result of increased calls for schools to teach the brutal history of the British Empire and legacy of imperialism, racism and colonialism during the Black Lives Matter movement.
Webbe noted the legacy of imperialism, racism and colonialism continue to have generational impact.
The letter indicates the violent interference of the British Empire in Kenya started at the end of the 19th century and lasted until Kenyan independence in 1964.
According to Webbe, it is vital that young people are taught the true history of race relations.
"If we are to end the scourge of institutional racism and the destructive legacy of colonialism, it is vital that young people are taught the history of race relations. I urge you to ensure this atrocity is included in the National Curriculum," read the letter.
Different cultures
The Sotik Massacre is a result of failure by the Sotik people to heed to an ultimatum by the British colonial government to return cattle stolen from the Maasai in a traditional raid. Such ultimatums were unknown in the culture of the local people and the colonial forces committed a massacre. Over 1,800 men, women and children were killed.
Webbe said massacres led by a Major Pope-Hennessey has been airbrushed from British history.
"There has never been any form of apology and no reparations ever offered for this act of historic genocide. There is a collective amnesia of this atrocity," she stated.
Webbe observed that the UN Special Rapporteur has written to UK's government requesting a response and none is yet to be received.
In 2019, Kenya National Lands Commission ruled that the Kipsigis and Talai didn't only lose their property, but were subjected to various forms of human rights violations.
In 2018, Kericho County, through Governor Paul Chepkwony, successfully lodged a complaint with the UN Special Rapporteur in Geneva claiming over 90,000 acres of land was given to white settlers.
In the process close to 115,000 people were forcefully removed from their ancestral lands by the British army.
Kimutai Bosek, one of the lawyers representing the communities in the case in Geneva, said they support the move by Webbe. Kipsigis and Talai communities want compensation from the British for forcefully taking their ancestral land more than 80 years ago.
Claudia Webbe MP is the member of Parliament for Leicester East. You can follow her at www.facebook.com/claudiaforLE and twitter.com/ClaudiaWebbe