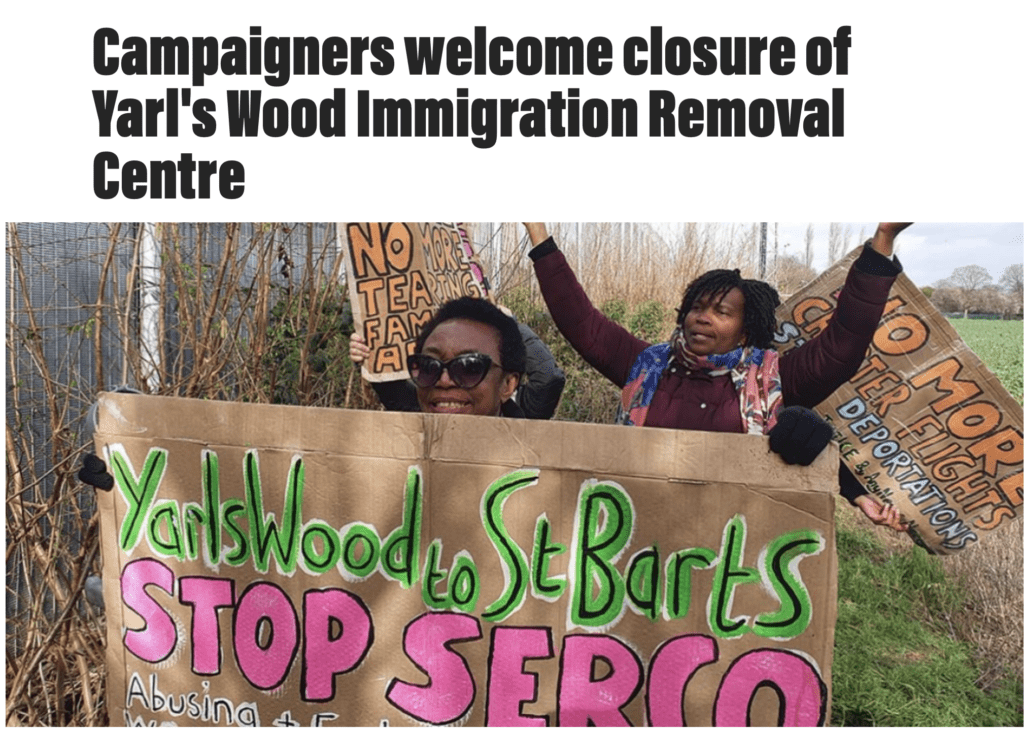 Campaigners welcome closure of Yarl's Wood Immigration Removal Centre
CAMPAIGNERS welcomed the closure of Yarl's Wood Immigration Removal Centre today and demanded an end to the entire inhumane detention system.

The centre has been repurposed to house migrants while they undergo health and immigration checks, following a surge in Channel crossings that has left sites in Kent at full capacity.
Campaigners have repeatedly exposed abuses by guards at Yarl's Wood and a number of detainee deaths.
Movement For Justice (MFJ) chair Antonia Bright hailed the shutdown as a huge victory following a struggle by thousands of people.
MFJ organiser and Windrush descendent Eulalee Pennant, who was detained at Yarl's Wood in 2018, said: "Our action built up a camaraderie that showed how you can fight for your life and for each other and turn the tables to win.
"Holding people in horrendous conditions is the reality of all immigration detention – any of the detention centres is an example.
"Yarl's Wood has been a front line in the fight and its closure is a victory for collective organising, immigrant-led struggle and speaking the truth about racism, by any means necessary."
Ms Pennant said that she was over the moon at the news of the centre's closure.
"Yarl's Wood and all the detention centres are not fit to keep refugees who are escaping persecution," she said. "It's like a double punishment. They should be protected.
"If people can be in their house under lockdown, it shows there is no need for a detention centre.
"They should all be shut down. These immigrants have been forced to flee from persecution and should be protected, not tortured. Our fight continues. No justice, no peace!"
Labour MP Claudia Webbe said: "Yarl's Wood has come to be synonymous with the violent, institutionalised racism and sexism that has been hardwired into our immigration system.
"The strength and bravery of those who are in or have left detention is a source of constant inspiration and living proof that – together – we can build a fairer world."
Ms Webbe, the MP for Leicester East, called on the government to abolish indefinite detention and repeal the 2014 Immigration Act to end the "destructive demonisation" of migrants and asylum-seekers.
The Home Office said that it would continue to seek the removal of those who were in the country illegally.
Claudia Webbe MP is the member of Parliament for Leicester East. You can follow her at www.facebook.com/claudiaforLE and twitter.com/ClaudiaWebbe