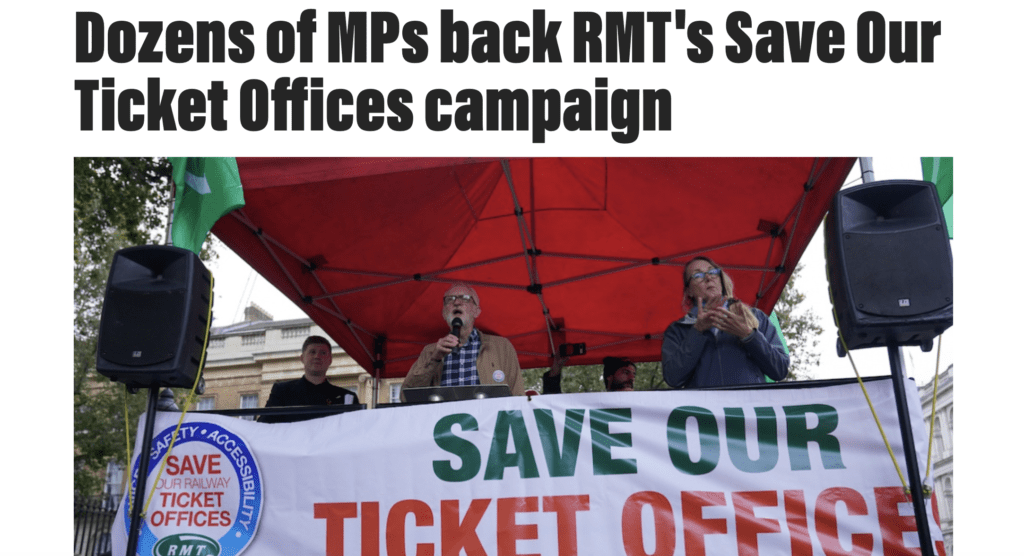 Dozens of MPs have backed RMT's Save Our Ticket Offices campaign which will end tonight.
Leciester East MP Claudia Webbe, who has written about the issue in the Morning Star, tabled an early day motion opposing the plans to close 974 offices in England in July.
Former Labour leader Jeremy Corbyn was among 20 Labour, SNP, independent and Green MPs who backed her motion.
Neither Sir Keir Starmer, who has been criticised by rail unions for not backing their fight for better pay and conditions, nor any member of his shadow cabinet was among the signatories.
Shadow minister for higher education Matt Western has however backed a local campaign against the planned closures by the Rail Delivery Group, along with several Tory MPs.
Speaking before a public consultation on them ended tonight, he said on Twitter: "Our ticket offices are at risk of closure and it's so important we make clear how valued they are."
More than 460,000 people have responded to the proposals, and London TravelWatch and Transport Focus will assess the response to the consultation.
TSSA interim general secretary Peter Pendle said: "It is clear from the overwhelming response to the consultation that the public will not tolerate this attack on our services.
"The Conservatives must now listen to the voting public and shelve these reckless plans."
RMT general secretary Mick Lynch has called the fight to stop the closure of ticket offices at railway stations a "fight for the future of our communities" at a march and rally against the plans on Thursday night.
Addressing the crowd, he said: "People up and down this country are sick and tired of their communities being hollowed out.
"Everywhere we go, all the community assets are being hollowed out in the name of profit, in the name of modernisation."
Ms Webbe told the Star: "It's not hard to see why the government deliberately chose not to assess the impact of the plan given the huge potential for harm to vulnerable travellers that has been raised by disability groups.
"A large majority of the public favours full renationalisation of public services, including two thirds for rail, including among Tory voters, yet their wishes continue to be ignored."
She pointed out that the breakdowns of ticketing machines, apps and websites showed that there really was "no substitute for ticket office staff — real people."
"It's sadly very clear that this government favours the profits of its corporate donors above the wellbeing of ordinary people — and they and the rail delivery operators have shown themselves ready to mislead on the consequences of this plan," Ms Webbe added.
"Rail companies are paying out huge dividends despite enormous public subsidies, while failing operators get bailed out with more public funds. All this is money that would be reinvested in services if rail was renationalised as it should be and as the public wants. It's time for the needs of the people to come first for once."
Claudia Webbe MP is the member of Parliament for Leicester East. You can follow her at www.facebook.com/claudiaforLE and twitter.com/ClaudiaWebbe