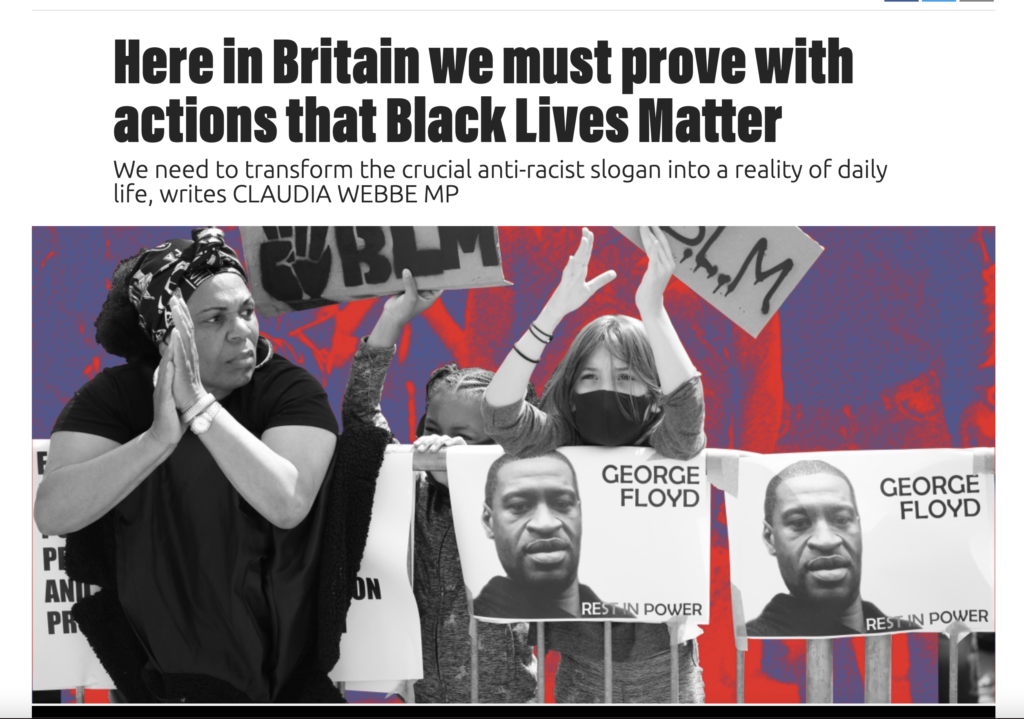 Here in Britain we must prove with actions that Black Lives Matter
By Claudia Webbe MP
We need to transform the crucial anti-racist slogan into a reality of daily life, writes CLAUDIA WEBBE MP
I STAND in solidarity with the Black Lives Matter protests and I will continue to support all those across the world who are safely and peacefully protesting systems of racist oppression.
Organised peaceful resistance is a force for change and is deserving of our full support.
As the inspiring crowds of protesters across the country have shown us in recent weeks, it is crucial that we in Britain do not assume that our institutions are immune from state-sanctioned racialised violence.
The brutality of racism in Britain affects us in all walks of life, from police use of force to unfair immigration detentions to the disproportionate number of black children who go to bed hungry.
The fact that our own government does not recognise that Britain is a racist country demonstrates the need for peaceful action.
Let us not forget that we have a Prime Minister who wrote in a 2005 Spectator article that it was only "natural" for the public to fear Islam.
Who in a 2018 article in the Telegraph compared Muslim women who wear burqas to "letter boxes" and bank robbers.
Who in a 2002 Telegraph article referred to black people as "piccaninnies" with "watermelon smiles."
Who in a 2000 Guardian article wrote that "seeing a bunch of black kids" makes him "turn a hair."
The fact that an overtly racist individual such as Boris Johnson can ascend to the nation's highest office reveals the corrosive legacy of empire within the British Establishment.
Sadly, our criminal justice system is not immune from this contamination.
Black people disproportionately suffer from police use of force in Britain, are more likely to be charged and are over-represented in the prison population.
As in the US, it appears the police can act with impunity as they very rarely face criminal prosecutions.
There have been no successful prosecutions for deaths in British police custody since 1969.
Not a single police officer has been convicted for their role in the death of a detainee, despite often compelling and incriminating evidence.
In the case of Christopher Alder, a British army veteran who died in police custody in 1998, CCTV footage showed officers at a Hull police station laughing over his dying body for 10 minutes.
All were acquitted on the direction of the judge, despite a 2006 independent review concluding they were guilty of racist neglect.
Only one of the police officers who, in the words of an inquest, used "unsuitable force" against Sean Rigg, who died in Brixton police station in 2008, faced a single prosecution — for giving false evidence. The officer was then found not guilty.
The three officers who were prosecuted for lying under oath after the death of Kingsley Burrell in 2011, which was found to be caused by prolonged restrained, were also found not guilty.
An inquiry into the "probably avoidable" death of Darren Cumberbatch in 2017 found that the police use of force, which included punches, batons and Tasers, was "excessive."
The only consequence of his death was that HM Prison and Probation Service will now deliver training for officers to spot acute behavioural disturbance, a move that family representatives described as "too little, too late for Darren."
Just five days before the brutal murder of George Floyd at the hands of Minneapolis police, Simeon Francis was found dead in a Torquay police cell.
It took over 24 hours for the police to issue a statement, and while a police watchdog investigation has been announced, any successful prosecution remains uncertain.
The average age of these five black men was 34 at the time of their death.
Tragically, these are just some of the many who have died after encountering British police.
According to figures from the Independent Office for Police Conduct of deaths in custody over the last 10 years, black people are more than twice as likely to die than population demographics would indicate.
Inquest found that, between 1990 and 2017, 184 African, Asian and minority ethnic individuals died in police custody.
The fact that black people and black men in particular are disproportionately likely to die as a result of police use of force or restraint raises "serious questions of institutional racism as a contributory factor in their deaths."
As the world mourns the public lynching of George Floyd, the British government must take this opportunity to address the severe racial disparities in our own criminal justice system.
Now is the time to be accountable and support the global Black Lives Matter movement to end the severe class and racial inequalities which exist across the world.
The question facing those of us who seek to end the disproportionate suffering of black people at the hands of the police and across society as a whole, is how can we transform Black Lives Matter from a crucial slogan to a reality of daily life?
This means reforming Britain's racist criminal justice system. This means justice for the victims of racialised state violence, including Grenfell Tower and the Windrush Generation.
It means that when a black person dies in police custody — as they disproportionately do — the incident is thoroughly investigated, and the police involved face justice.
It means transforming our British education system to teach the truthful education about colonialism, imperialism and the transatlantic slave trade.
It means an end to racist policies like no recourse to public funds and the hostile environment.
Ultimately, it means an end to empty platitudes. It is up to those in power to prove with their actions that Black Lives Matter, not just to say that they do.
And it is up to all of us to continue supporting this movement, so that racial inequalities of all kinds are eradicated, and that we can build a world that works for all of us.
As the radical Angela Davis said: "If we don't take seriously the ways in which racism is embedded in structures of institutions, if we assume that there must be an identifiable racist who is the perpetrator, then we won't ever succeed in eradicating racism."
Now is the time for us to interrogate our systems of government so that we can end the global scourge of racism, no matter what form it takes.
Claudia Webbe MP is the member of Parliament for Leicester East. You can follow her at www.facebook.com/claudiaforLE and twitter.com/ClaudiaWebbe