I have repeatedly written to the Chancellor urging a broader package of support for the Hospitality Industry and have raised individual cases of businesses in Leicester East with the government.
Too many Hospitality businesses in Leicester and across the country are falling through the cracks of government support due to inflexible guidelines.
I will keep campaigning on this issue until Leicester's businesses receive the support they need.
You can read my letter to Rishi Sunak here and second letter here more specifically for the need to extend small business grants to small businesses.
My piece paying tribute to the leadership of Jeremy Corbyn
McDonnell is out in the beautiful paper copy of Tribune Magazine
The Coronavirus crisis has shown that the world which Jeremy, John and Diane have been fighting for their entire lives is not only possible, but is the only viable option if we are to avoid planetary breakdown.
The existential crises we face, from COVID-19 to the climate emergency, can only be tackled by strong collective action which prioritises people and planet over private profit.
You can read the full article in the Tribune Magazine here.
Too many hospitality businesses in Leicester East and across the country are falling through the cracks of government support due to inflexible guidelines.
Many businesses in the hospitality supply chain are ineligible for support as they do not directly provide public facing services from their premises.
In Leicester many catering and events companies provide services for weddings and conferences at other venues. These are currently ineligible for a Retail, Hospitality and Leisure Grant, and are often too large for Small Business Grants. This especially impacts the Asian Wedding Industry, which is of great cultural and financial importance to many of my constituents.
I implore the government to close these gaps in financial support in order to protect the hospitality industry – which employs many, many Leicester residents.
At every step in this crisis – from lockdown delay, PPE shortages, care home neglect, testing lies and much more – the Prime Minister has failed to adequately protect Leicester East and communities across the country.
That is why the UK has the worst Coronavirus death rate per capita of any country in the world – even worse than the epicentre of China, Trump's America and Bolsonaro's Brazil.
At my latest apperance at the Environmental Audit Committee, I raised the important relationship between Air Pollution and COVID-19 deaths.
Air pollution is an issue of great importance in Leicester. It is crucial that we learn the lessons from this crisis and build back a cleaner, safer society.
I agree with Professor Frank Kelly. After the Coronavirus crisis, we must build a greener Leicester and a greener society.
That means a reduction to zero in polluting vehicles that cause poor air quality and investment in more walking and cycling and in renewable energy at the local and national level.
From the Coronavirus pandemic to the existential threat of climate change, the global community is facing increasingly common enemies.
Rather than appropriating the language of war, our governments should use this moment to end the intolerable suffering caused by global conflicts.
Now is the time for a true global ceasefire. I am proud to work with  Stop the War Coalition on this important campaign.
I have written to the Chancellor regarding the urgent need to expand small business grants and the Coronavirus retail, hospitality and leisure scheme.
It has been a mammoth task for Leicester City Council to administer the award toLeicester and get the grant funds out quickly to help many businesses survive through these difficult times, and I congratulate them for the excellent work they have done.
However, there are clear limitations with the government's scheme which are causing many businesses and charities to fall through the cracks. The government must expand access to crucial support at this difficult time.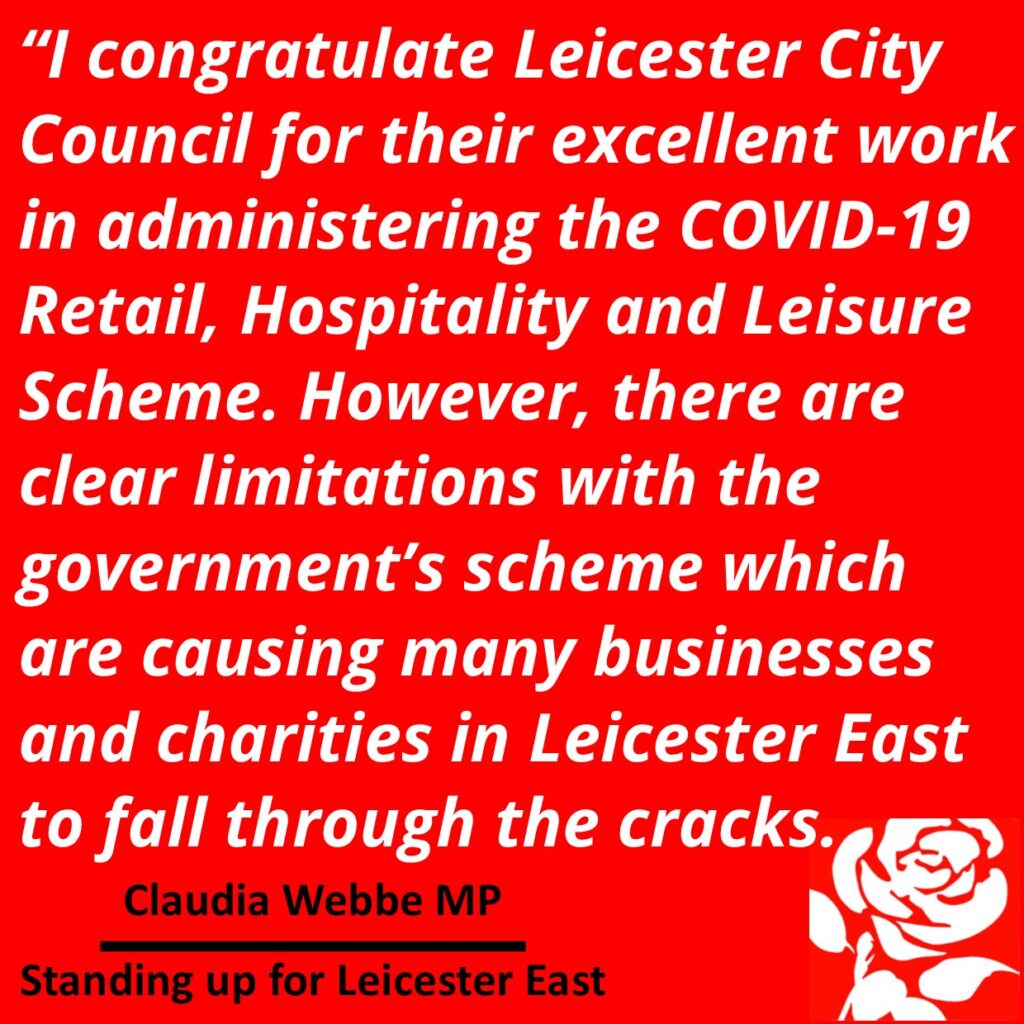 Moments of crises often shape the future. From the horror of The Second World War, we created the welfare state and our treasured NHS.
Whilst the government rightly focuses on tackling the Coronavirus pandemic, the wellbeing of the entire planet relies on us also taking this opportunity to mitigate the existential threat of climate change. I will continue to work with Leicester East residents to ensure we do our bit and progress in working towards a cleaner, greener City.
Check out my latest question at the Environmental Audit Committee: https://committees.parliament.uk/oralevidence/2434/pdf/
I am proud to have supported this letter calling for more protections for Deliveroo workers in Leicester East and across the country with the Independent Worker's Union.
We are only as safe as the most vulnerable amongst us. Working class people must be protected at all costs during the Coronavirus pandemic.
To all Muslims, in Leicester East and across the UK, Eid Mubarak!
This Eid with our physical distancing to slow the spread of the virus; I'm reminded fasting teaches us discipline, sacrifice, mindfulness, reflection & empathy all relevant now.
The COVID-19 crisis is, of course, unprecedented. Yet it is also shining a brutal light on existing racial and class inequalities.
Many have tried to dismiss the imbalance in deaths as being explained by cultural differences. Yet the scourge of institutional racism results in unequal access to quality education, healthy food, liveable wages, and affordable housing – which are the foundations of health and wellbeing.
This is the context in which the coronavirus crisis is operating. After this crisis, we can no longer live in a society defined by extreme racial and class inequality.
It is up to all of us to fight for that better world.
The Coronavirus crisis has demonstrated our dependence on each other, clearly disproving the Thatcherite mantra that 'there is no such thing as society.
Thursday's weekly Clap For Carers, and the development of mutual aid groups in Leicester East and across the country, show a new spirit of unity and solidarity.
Now we need to develop a collective commitment to building a different and more equal economy and society in the years ahead.
My column for Morning Star here.
I welcome the government's U-turn on the removal of the NHS migrant surcharge from health and care workers.
The Coronavirus crisis has demonstrated the invaluable contribution that migrants make to Leicester East and communities across the country. Our NHS simply would not function without the sacrifice of people from all over the world.
This is a huge victory for all of us who have been campaigning on this issue. I wrote to the Home Secretary urging them to indefinitely end the surcharge for all migrant NHS workers and their family members on the 15th April.
Frankly, it is embarrassing that it took the government this long to follow common sense. It would have been rank hypocrisy for them to Clap for Carers tonight whilst still sticking to this mean-spirited policy.
They must now drop the surcharge for all front-line workers who have kept our society ticking during this crisis.
This week, the government also extended Indefinite Leave to Remain to dependant family members of all NHS staff should they tragically die from coronavirus.
But why wait until they die? They should simply guarantee the residency of all migrant NHS staff and carers and their dependant families.
You can read my letter to Priti Patel here.
As I have said over and over again, the government has a moral and practical duty to abolish the NHS Surcharge.
I am glad they have, finally, seen common sense and removed the migrant surcharge for health and care workers.
Now, the government must go further and drop the surcharge for frontline workers who have kept our country ticking during this crisis.
I am disappointed that the Prime Minister's response ignored the African, Asian and minority ethnic communities that I specifically raised, especially as Leicester East is one of the most diverse constituencies in the country.
Given Boris Johnson's long history of racist comments, can we trust him to protect our
communities from the disproportionate impact of COVID-19.
I am incredibly proud of the multiculturalism of my home city of Leicester. Our diversity is our strength, and we are so much better than this.
We must oppose any attempt to divide our communities based on the colour of our skin, our nationality or religion.
I stand in solidarity with the TV crew who were abused.
Existing racial and class inequalities, coupled with inadequate government support, mean that working-class people, migrants and African, Asian and minority ethnic communities are at greater risk from and exposure to the Coronavirus.
At PMQs today, I asked the Prime Minister what action the government will take now to protect these communities.
I am disappointed that the Prime Minister's response ignored the communities that I specifically raised, in accordance with the Office for National Statistics (ONS) evidence especially as my constituency of Leicester East is one of the most diverse in the country.
I support Labour's call for all employers, not just the NHS, to risk-assess staff who are at potentially greater risk.
NHS Management have already issued guidance and said that "BAME personnel be "risk-assessed" and reassigned to duties that leave them at lesser risk of contracting coronavirus" @Nursing Times 29th April 2020 – I welcome this – it should be extended to all employers Nursing Times.
Given the Prime Minister's inadequate response at PMQs, I believe nothing short of a full public enquiry will be required to get to the bottom of the disproportionate impact of this disease.
I am also dissatisfied by the Prime Minister's vague, insensitive and generalising use of the term 'comorbidities'.
The last time I checked, being African, Asian or from a minority ethnic community does not automatically mean you have a pre-existing disease or condition. But considering Boris Johnson's long history of racist comments, it is perhaps not surprising he gave this insufficient answer.
The Government's Immigration Bill was not fit for purpose.
I voted against the Government's Immigration Bill at Second Reading. We must honour the dedication of all NHS workers no matter their country of birth. This effects a huge part of Leicester's NHS staff.
It is pure hypocrisy for government ministers to applaud NHS staff on Thursday nights in front of TV cameras, then legislate to strip them of their dignity.
It was a pleasure to volunteer with Human Appeal – UK and the Northfield Neighbourhood Center (ISLAH
TRUST) in delivering food packages to vulnerable people in Leicester East.
The COVID-19 pandemic risks tearing up our social fabric, which was already stretched to breaking point after a decade of cruel austerity.
The constituency of Leicester East, due to a decade of austerity and insecure employment, we have 42% of children living under the poverty line. Over 70% of Leicestershire's poverty-stricken children have at least one parent in work.
The fact that a job no longer provides a route out of poverty reveals an unforgivable breakdown in our social contract.Nobody should be forced to suffer the indignity of choosing between heating their home or feeding their family.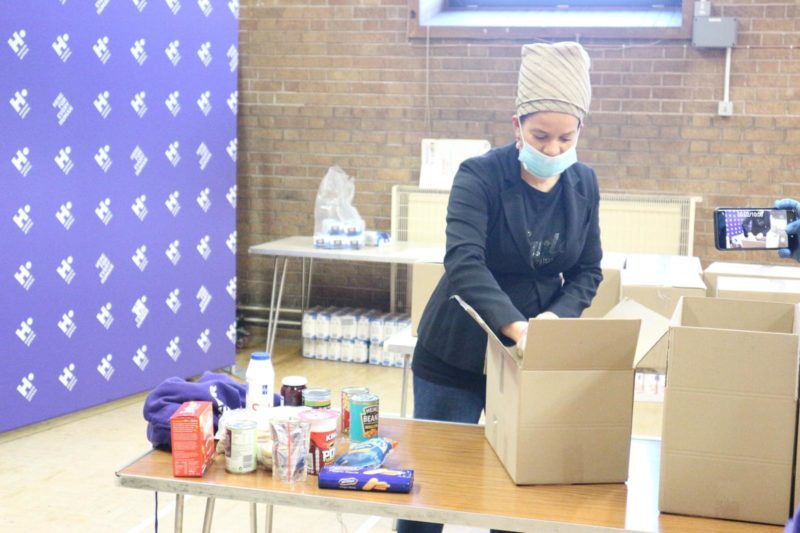 Today, my thoughts have been with the Tamil Community in Leicester East on the 11th anniversary of Mullivaikkal, a day of remembrance to honour the memory of those victims who were killed and disappeared in the final weeks of the civil war in Sri Lanka.
Though communal acts of remembrance are not possible at this time, I know that Tamil communities in Leicester East and across our country will be united together as they pause and reflect upon this solemn day.
Mullivaikkal must also be a reminder that as well as commemorating those who died, we must bring the perpetrators of atrocities to justice. This can only occur through a renewed effort to seek truth, accountability and reconciliation – a purpose we must all remain committed to.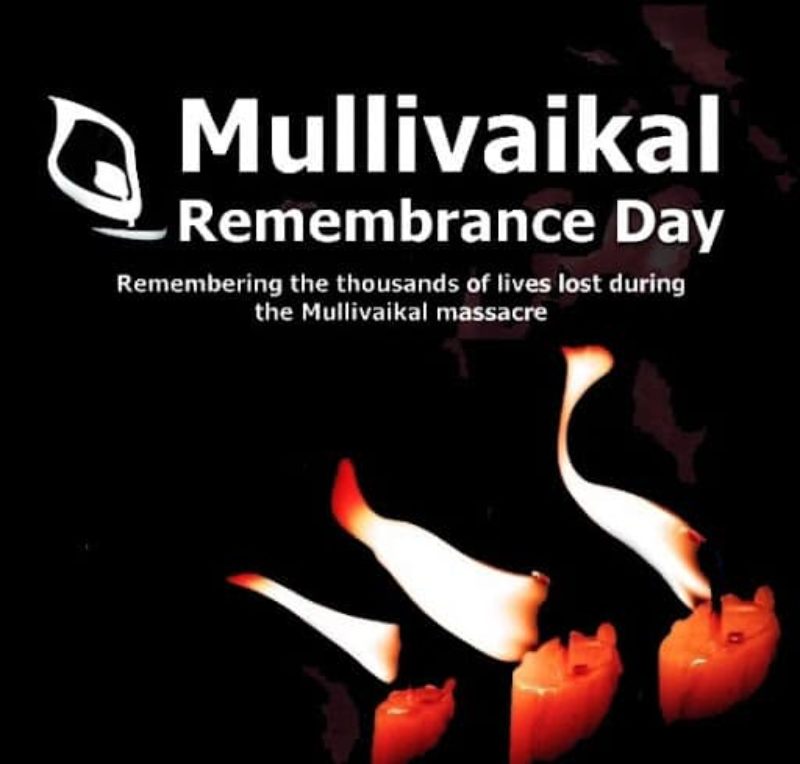 Even before the Coronavirus pandemic, in the fifth richest country in the world, an estimated 8.4 million people struggled to get enough to eat. This is shameful.
Since the start of the lockdown, food bank use has increased by an average of almost 60%, and 1.5 million people have gone a whole day without eating.
I would like to take this opportunity to thank all the food banks, mutual aid groups, charities and religious organisations in Leicester East that are providing a safety net at this perilous time.
I wholeheartedly support the National Education Union's Five Tests to ensure a safe reopening of schools during the Coronavirus crisis.
I am gravely concerned that, in order to kick-start sections of the economy, the government are rushing to reopen schools before it is safe to do so. Public health must be driven by evidence and medical advice, not the government's profit-seeking ideology.
I will continue to support all schools in Leicester East that are concerned about a premature reopening.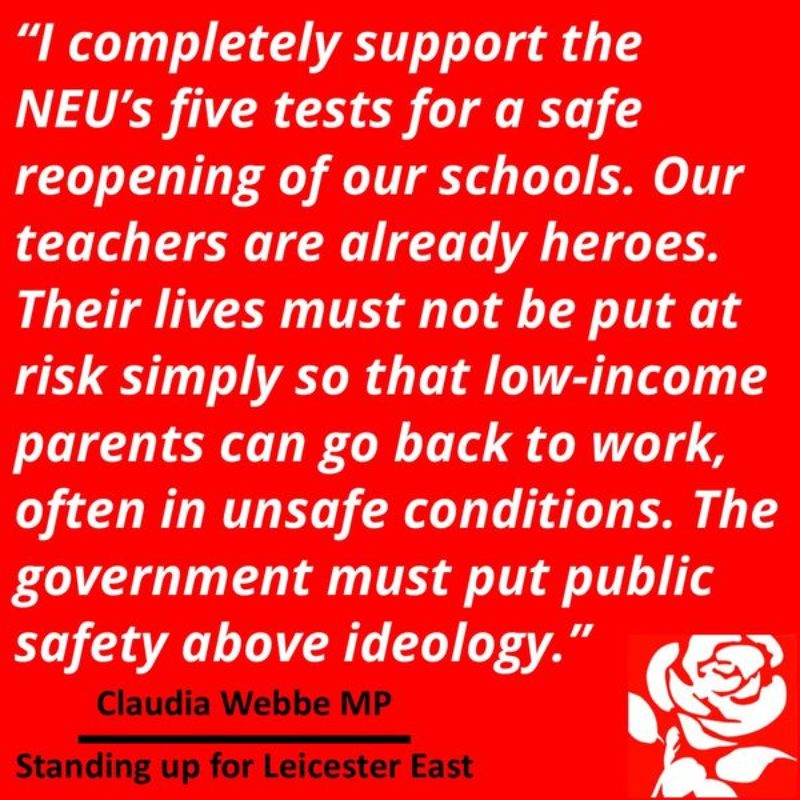 A number of NHS and private healthcare staff, from heart surgeons to nurses, porters and volunteers, have tragically lost their lives to the Coronavirus in the UK.
At least 171 deaths have been reported, but the true figure is likely to be higher because not all deaths will be in the public domain.
In the current system, if a migrant NHS worker tragically dies due to work related illnesses, the future of their dependent family members living in the UK is not guaranteed. This means vulnerable individuals could face deportation whilst grieving for their loved one. This demonstrates both the heroism of our NHS workers, and the cruelty of the current immigration system.
NHS staff are at considerable risk, in large part due to the lack of staff testing and shortages of Personal Protective Equipment. For many migrant NHS professionals, the stress of potential ill health, and even death, is compounded by the fact that their family members are not guaranteed a future in the UK.
That's why I have been calling on the government to ensure that, in the tragic event an NHS professional dies of #COVID-19, their family members must be protected and their residency in the UK maintained.
My thoughts have been with the loved ones of Leicester residents and beyond who have sadly died from the Coronavirus and with those who are suffering as a result of contracting it.
We are all immensely grateful to Leicester's amazing NHS staff and social care workers who are working tirelessly to help us deal with this pandemic, often in extremely challenging conditions.
In recent weeks, there has been a constant rallying cry from politicians, the media and even the Queen that 'we are all in this together.'
It is true that, once it infects someone, this awful disease does not discriminate. The coronavirus crisis has laid bare class and racial inequalities and a fairer society must follow.
It's simply not true to say we are all in it together.