The current level of Statutory Sick Pay is far too low and is forcing many people in Leicester and across the UK to choose between having enough money to live on or self isolating. This risks undermining important efforts to reduce the spread of the coronavirus.
At just £95.85 per week, Statutory Sick Pay in the UK is among the lowest in Europe. The TUC estimates that it is equal to only a fifth of the average worker's weekly earnings. Nearly 2 million low-paid workers are entirely excluded from claiming Sick Pay altogether because they earn less than £120 per week.
The Government must urgently act to address the deeply inadequate levels of Statutory Sick Pay before the current lockdown ends.
I have added my solidarity to this by signing the joint letter below to Rishi Sunak.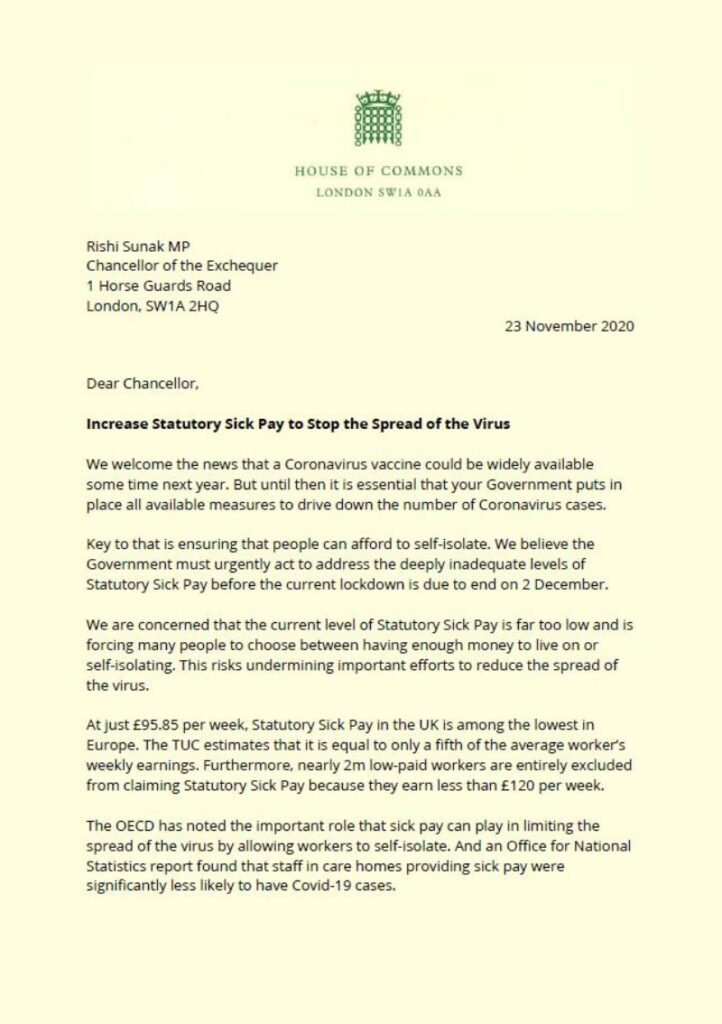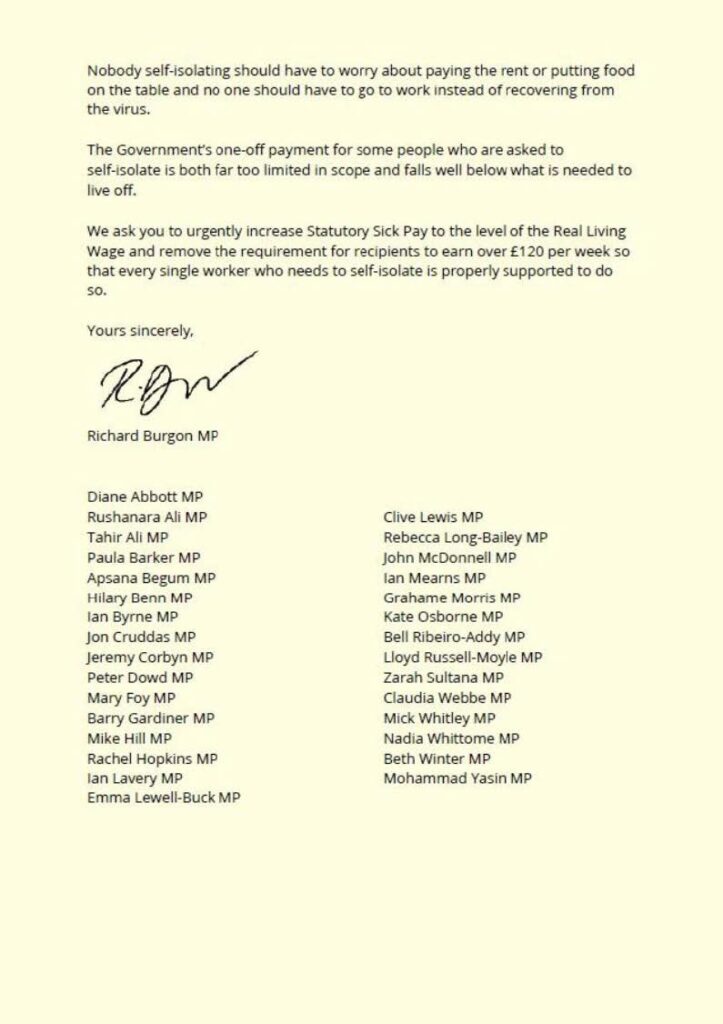 I really enjoyed speaking at this important event to mark Islamophobia Awareness Month.
I have volunteered with Muslim food banks in Leicester, and I know from personal experience the generosity and selflessness which is at the heart of the Islamic religion.
I will do everything in my power to fight against the demonisation of the Muslim community and to combat Islamophobia in all its forms.
You can watch the whole online event below.
During this pandemic, the government has handed out £18 billion to private companies, many of which had little or no experience in public health and whose only qualification seem to be a close personal relationship with a member of the government.
This is a government that is frivolous when it comes to handing public money out to Tory 
donors or private companies, but penny pinching when it comes to bailing out communities in Leicester East and across the country.
From the scandal in Leicester's garment industry, to corporate giants misusing taxpayer bailouts to further exploit their workforce, the unprecedented economic impact of the coronavirus has laid bare the weakness of our labour protections.
Workers rights and trade union protections must be protected and expanded.
This crisis has demonstrated the need for us to build a society built around the principles of solidarity and in which all of us, regardless of our job, can live in dignity.
Our NHS is a gleaming beacon of human achievement, the embodiment of socialist, universal principles.People in Leicester will not allow the government to privatise our NHS in a grubby trade deal with the US.
We will always defend our most treasured public institution.
The Union Learning Fund has been getting working people into skills training they would otherwise have no access to for two decades.
Yet at a time of economic crisis, the government has announced that it will cease funding this crucial initiative.
It has never been more important for people, in Leicester and across the UK, to be able to retrain and gain skills. I urge the government to reconsider it's decision.
This report shows that all but one part of Leicestershire now in top 100 areas for coronavirus infection rates. This is very concerning. Our community of Leicester has disproportionately suffered from this government's mishandling of the Pandemic. The government must urgently fix it's disastrous test, track and trace system by bringing into public ownership.
Read the full report in the Leicester Mercury here.
Thank you to the Midland Langar Seva Society, who have been instrumental in providing for vulnerable residents across Leicester during this pandemic.
Religious organisations, charities and food banks have been incredible over the last few months. You can see a list of some of the wonderful local organisations here. Whilst feeding the vulnerable should not be left to the charity sector, it is inspiring to see such excellent community spirit.
The MLSS organisation has been working seven days a week since the beginning of the coronavirus crisis and have already delivered 100k meals and counting!
You can read the full article in the Leicester Mercury here.
COVID Impact on BAME and Low Income Workers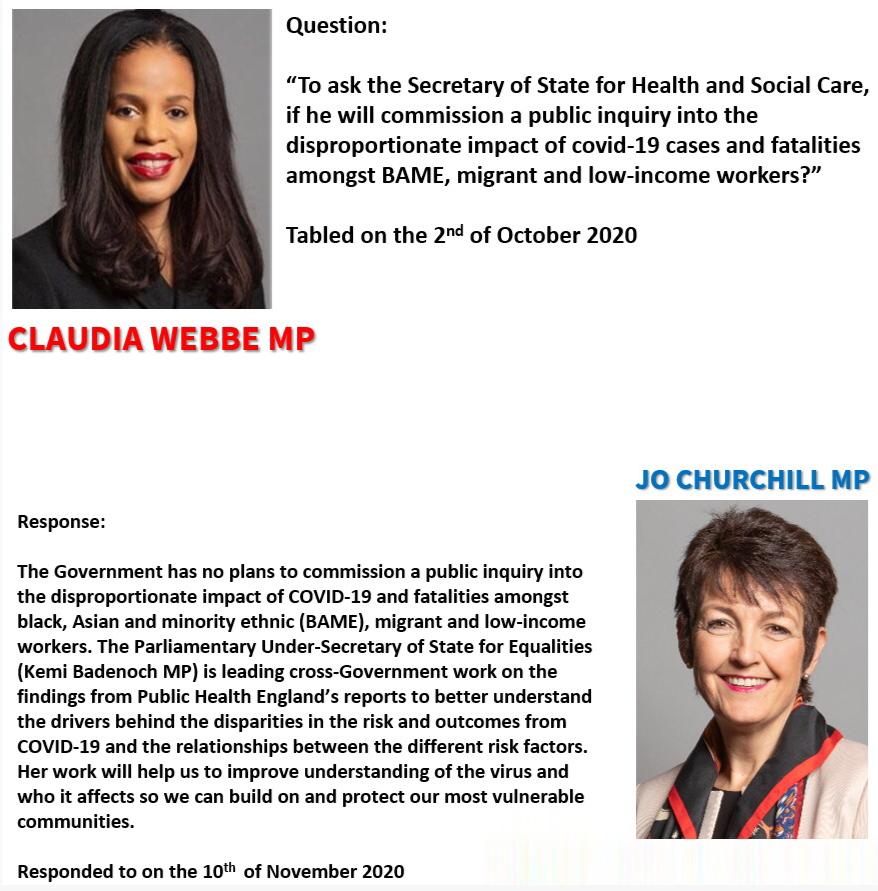 The Pfizer vaccination news is very welcome and I am hopeful for everyone in Leicester, across the UK and all over the world.
As soon as a vaccine is produced, it must be distributed for free and based on need –not the ability to pay or for private profit.
We have all suffered as a result of this virus, and it is crucial that we are all protected from it.
More information on the vaccination here.
It was a pleasure to virtually meet with Leicester Climate Action, Leicester Friends of theEarth and Leicester Global Action group. The climate crisis is already here. We cannot delay the urgent action that is necessary to transform our economy and society. I look forward to working with these excellent Leicester campaigners as we fight for a liveable future.
I have called for knife crime to be declared an epidemic after spree of random stabbings in Leicester after Carlos Racitalal was convicted of attempted murder yesterday.
It is beyond comprehension as to why anyone would attempt to kill vulnerable and defenceless victims and especially children as young as 5 and 10 years of age. These incidents brought shock and fear to our communities of Belgrave and Leicester East.
Yesterday's ruling is an important delivery of justice, and a demonstration that we can never accept violence or hate on the streets of Leicester.
You can read my full article in the Leicester Mercury here.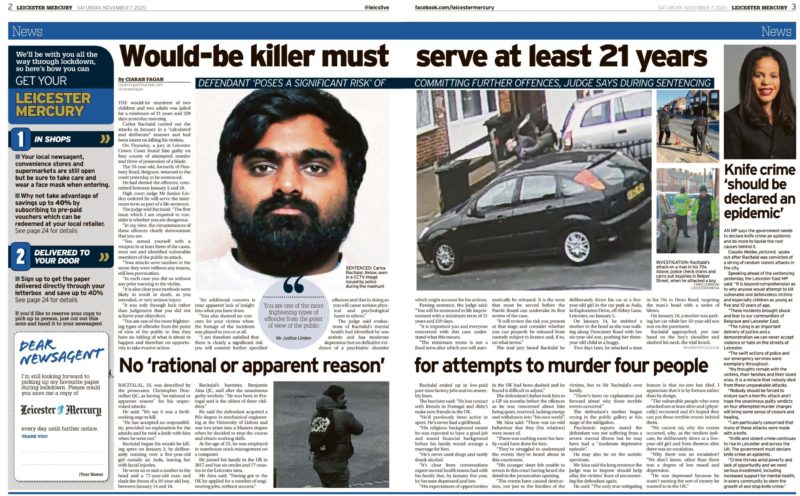 I am proud to have written a chapter of the Socialist Campaign Group's new pamphlet, which focuses on the need for workers' rights fit for the 21st Century.
The scandalous mistreatment of workers' in Leicester's garment industry is best understood as an extreme microcosm of the national and global decay of worker's rights during the failed neoliberal project of the last forty years.
The Tories and sections of big business argue that the mistreatment of workers is inevitable – that rights, fair pay, and dignity in the workplace are an acceptable cost to their bottom line. Yet their free market race to the bottom has normalised poverty, hopelessness and exploitation in our communities.
Now is the time for us on the left to fight for a society built around the principles of solidarity and in which all of us, regardless of our job, can live in dignity.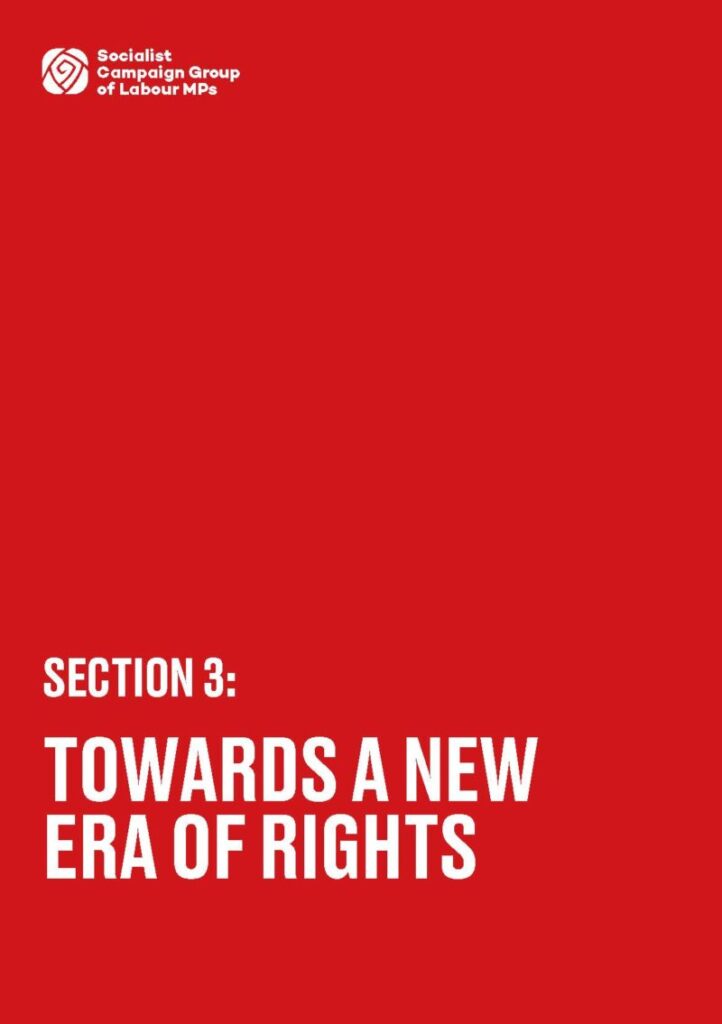 As we close Black History Month in the UK, it is important to reflect on the crucial juncture for race relations that we find ourselves in. Across the world, racism and the far right are on the rise.
Meanwhile the government has decided to a wage war on critical race theory. The government via their Minister, Kemi Badenoch during the debate in Parliament on Black History Month strongly criticised the Black Lives Matter movement and declared that schools teaching 'critical race theory' will be breaking the law.
She went as far as seeking to prohibit teachers from teaching children about the existence of white privilege.
We should be very alarmed that our government is directly copying culture war strategies from Donald Trump's racist playbook. Yet even more than that, we should be worried by their refusal to recognise the reality of institutional racism.
We on the left cannot allow their divide and rule culture wars to win. We must keep pushing for economic and public health support for our communities in Leicester and across the UK and keep fighting against the divisive tactics of this administration.
Read my full article in the Morning Star here.
Government economic support for Leicester businesses unfair and not enough.
The Government's' treatment of Leicester, as well as regions in the North and Midlands, has been nothing short of a disgrace during recent weeks.
It has sacrificed areas of the UK, including Leicester, Greater Manchester, and Newcastle, on the altar of a false, ideologically-driven understanding of the national economy – without providing anywhere near adequate support to protect lives and livelihoods.
You can read my full house column in the Leicester Mercury here.