I commend Marcus Rashford who has been sharing amazing businesses and organisations offering to supply kids with free meals over the school holidays.
If you are in need of food then use the postcode checker here. You can also add places that are offering help here and sign the petition.
All of us together UK are now compiling all these into one place in an easy to search map and website and they need your help! If you've found a business, charity or organisation doing this, or you are a representative of one, please enter the information here and they will add it to their #freeschoolmeals map. The data is also available to other websites with free meals info.
You can share this form with others too by using this  link.
Conservatives voted to deny free school meals to 1.4 million working class children; a shameful point in British politics Its a good job we've our own hero in Leicester with our Leicester City Mayor Peter Soulsby pledging to feed at least 12,800 children during the holidays.
In addition the below are offering services this week in Leicester East in addition to the foodbanks already in place.
Popat Mithai and Farsan – BELGRAVE
This Indian sweets and savouries shop in Belgrave is offering pure vegetarian lunchboxes for children this week.
Lunchboxes can be picked up between October 26 and October 30 from the Popat Chai and Chaat branch at 47, Belgrave Road, LE4 6AR.
For more information, call or test 07912 623323.
The Dove Pub and Kitchen – EVINGTON
The Dove is offering free lunch for kids this week.
For those who might be struggling to feed their families during the October break period, despite half-term in Leicester being last week, The Dove is offering a little support.
From Monday, 26 October to Friday 30, October between 12pm and 2.30pm, children's meals with squash and a piece of fruit will be free.
For more information and where to find them, visit the pub's Facebook page here.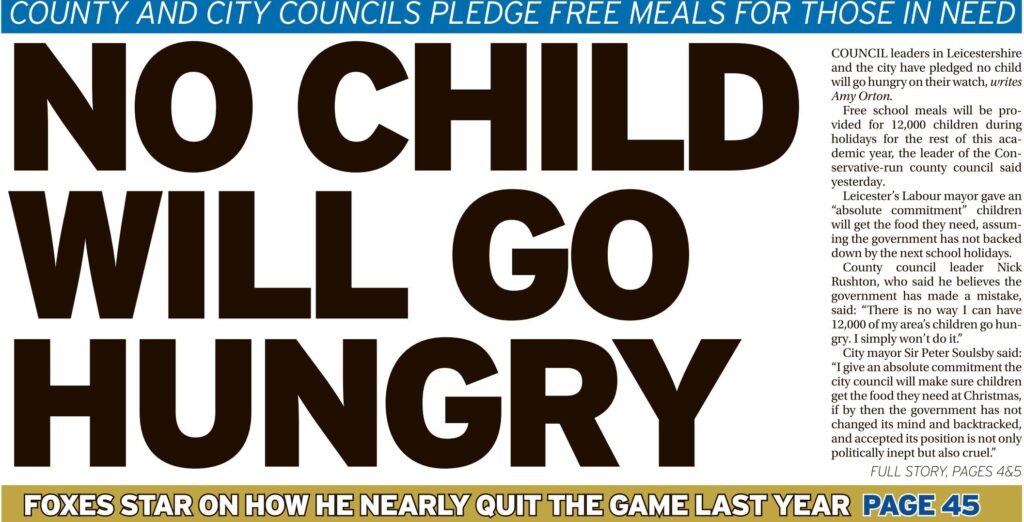 I believe a circuit breaker lockdown would have saved lives in Leicester and people from BAME communities have suffered worst as a result.
Using the ONS data it is beyond dispute that Covid-19 has had a disproportionate impact on black, Asian and minority ethnic communities. Males of black African ethnic background had the highest rate of death, which was 2.7 times higher than males of white ethnic background. Women of a black Caribbean ethnic background also had the highest rate, which is two times higher than females of white ethnic background.
Sage advisory group of scientists and other experts should have been listened to when they recommended a two-week "circuit breaker" lockdown across the country this month. It emerged recently that the experts had suggested a two-week lockdown over the school half-term could have effectively stalled the virus for about four weeks.
In May, I asked the Prime Minister how he intended to protect African, Asian and minority ethnic communities from the virus and five months later, his government still refuses to take any actions that would specifically protect our communities.
The Government claims to be following the science. Yet just weeks ago, they were urged by SAGE to introduce a two-week circuit breaker lockdown. The Governments' own group of scientific experts said that the second wave of the virus would 'fall disproportionately on lower incomes and BAME communities'.
The fact that the government ignored this clear scientific advice is a scandal and demonstrates their contempt towards the working class and African, Asian and minority ethnic communities.
I urge the government to abandon this head-in-the-sand approach and to push for a zero-Covid strategy to protect everyone in the UK and especially those who the virus has disproportionately affected in order to protect lives of my constituents in Leicester East.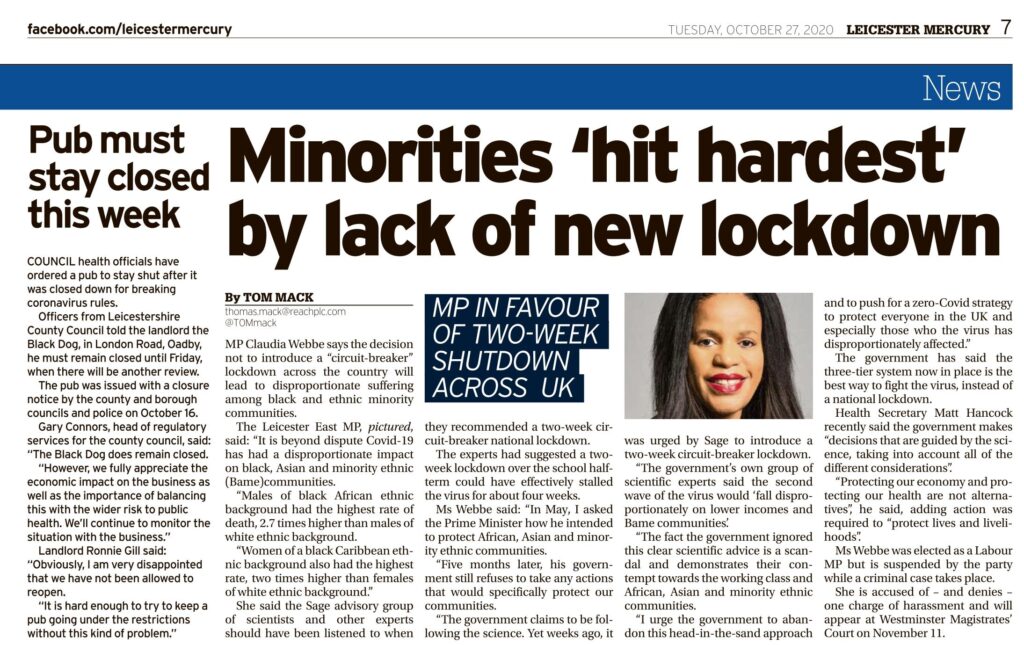 As the nine nights of Navratri draw to a close we are reminded that in the end our victorywill be one of good over evil.I wish everyone in Leicester East, across Leicester, the UK and globally celebrating thisimportant Hindu festival a happy Dussehra.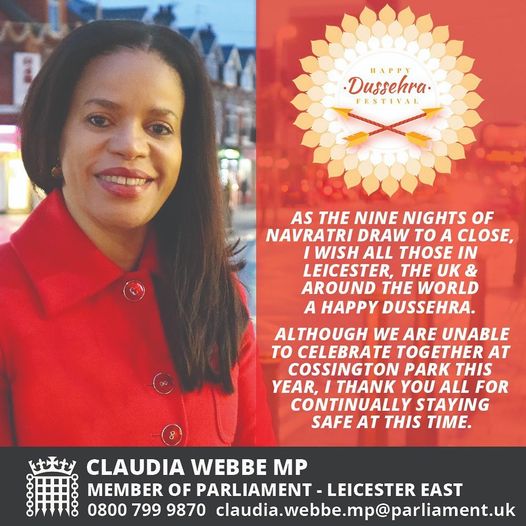 The Chancellor has improved some of the issues that I and colleagues have been lobbying him on for months. Yet, today's announcement still does not go nearly far enough to protect everyone in Leicester East.
Despite what our millionaire Chancellor may believe, people in Leicester East and across the country cannot afford to live on two-thirds or two fifths of their pre-pandemic earnings.
Even after today's announcement, self-employed people, for instance, will only be able to claim 40% of their pre-crisis profits.
During an unprecedented crisis, the government is handing out poverty payslips and driving our residents into hardship.
Those on furlough minimum will be expected to continue to work fir less than the minimum wage – there is still a long way to go
To protect all communities in Leicester East, they must urgently adopt a zero covid strategy underpinned by an urgent circuit-break lockdown, proper economic support to all and a fully nationalised test and trace system.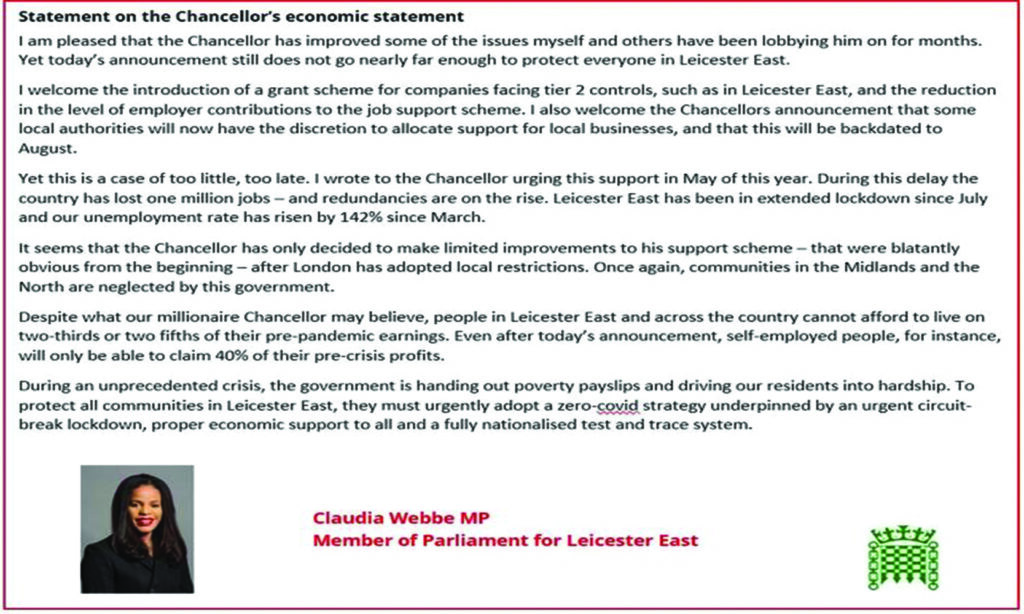 Businesses in Leicester have suffered for too long because of the government's unclear advice. 
I have written to the Health Secretary urging clearer guidance for hair and beauty salons in our community.
International students are always welcome in Leicester and across the UK.
They should not be wrongly accused of cheating. I have written to the government urging them to listen to Migrant Voice's campaign
It was an honour to speak in today's Parliament Black History Month debate.
Across the world, racism and the far right are on the rise. Yet here in Leicester and across the world we have also seen the largest mobilisation of anti-racist protest for decades with the #BlackLivesMatter movement.
At this crucial juncture, it has never been more important for us to learn from the history of racial oppression and to end the injustices that exist to this day.
Billionaires exist because of the exploitation of workers. The pursuit of profit knows no shame. Railways stations and railways are stolen public assets – its about time they were returned to public control so that ethical and responsible advertising can be restored.
Boohoo which owns Pretty Little Thing "tolerates" widespread worker exploitation & abuses of employment law in its UK supply chain, where workers in Leicester's Garment Industry are paid well below the minimum wage.
Boohoo is valued at £4bn
Wishing everyone in Leicester East, across Leicester, throughout the UK and across theworld a powerful and happy Navratri.Today and everyday but especially over the nine days & nine nights of Navratri festivallets us unite and work together for peace, justice and good health.
It is estimated that 1.6 million self-employed workers, including thousands in Leicester, have been excluded from government support during this pandemic.
The government must step up their support for the self-employed and freelancers, not scale it back as they are proposing to do.
Sadly, the government have wasted the sacrifices of people in Leicester and across the country during the Coronavirus pandemic.
They have spent billions on a failed test and trace programme which prioritises the enrichment of private corporations over the protection of our communities.
The government must introduce a fully public system which empowers local authorities and ensures that people have the means to self-isolate.
It is crucial that we protect our food and environmental standards as we leave the EU.
Yet the government has refused to enshrine these protections into law, and are simply 
asking people in Leicester and across the country to trust them. Based on the governments track record of privatisation and prioritising corporate profits over public health, I do not believe we can and I will continue to fight for this on behalf of my constituency.
Coronavirus Disease Control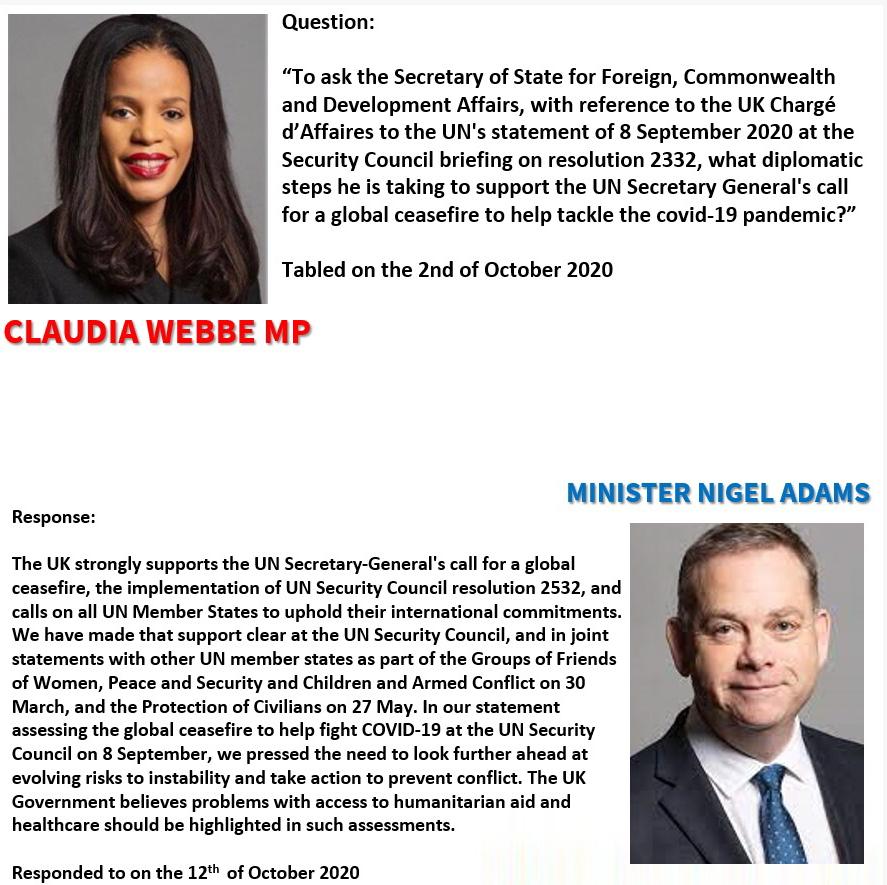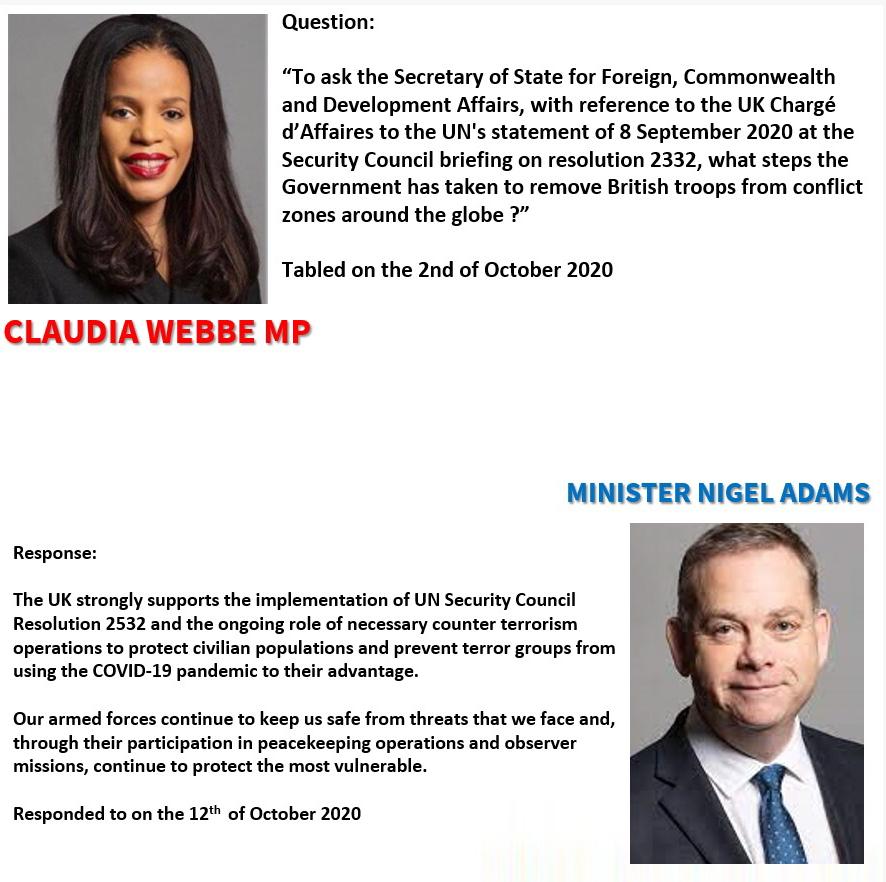 Cancel Local Government Debt COVID 19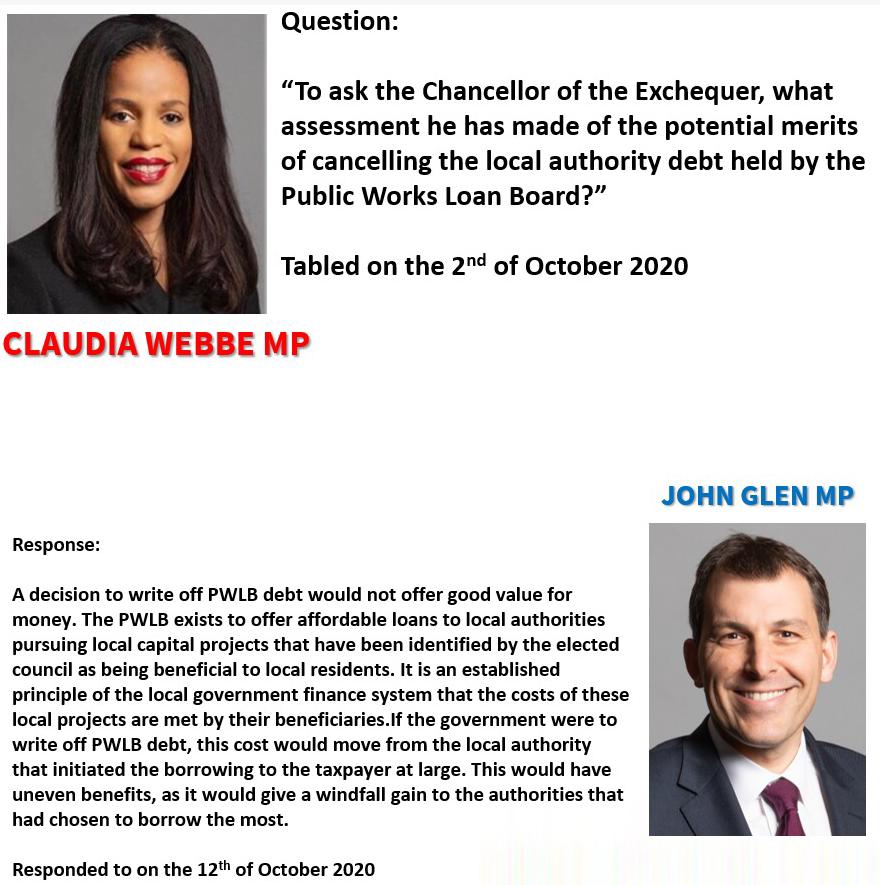 DWP's Response to the Coronavirus Outbreak - No Recourse to Public Funds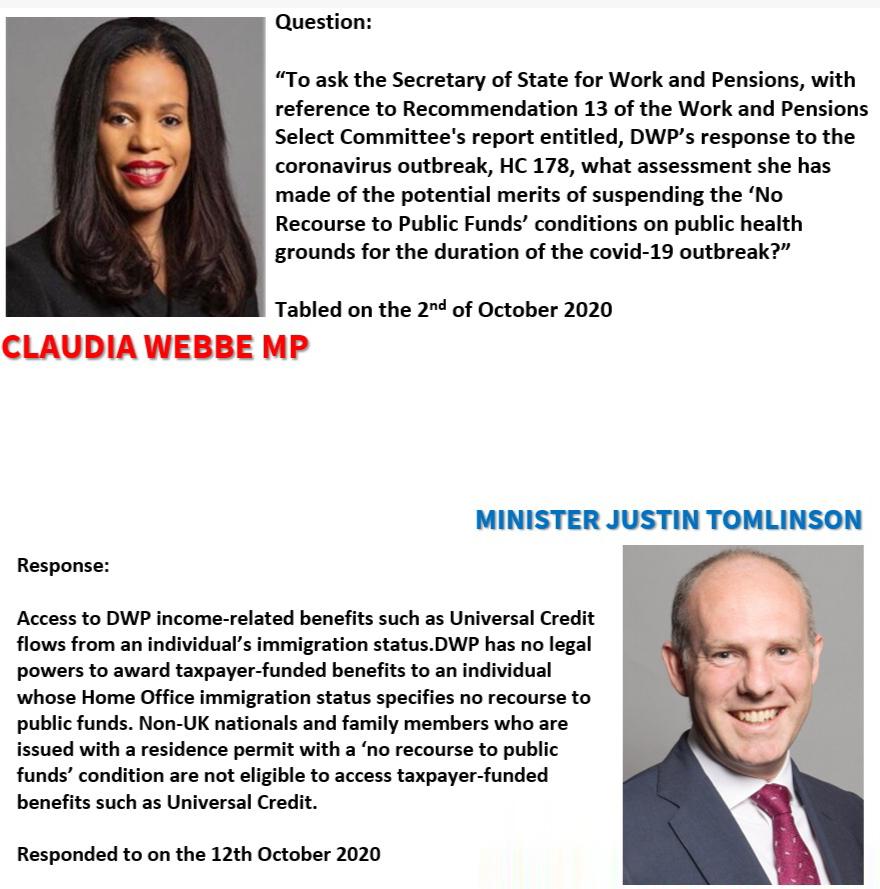 Garment Industry Must Work with Trade Unions to Set Employee Terms and Conditions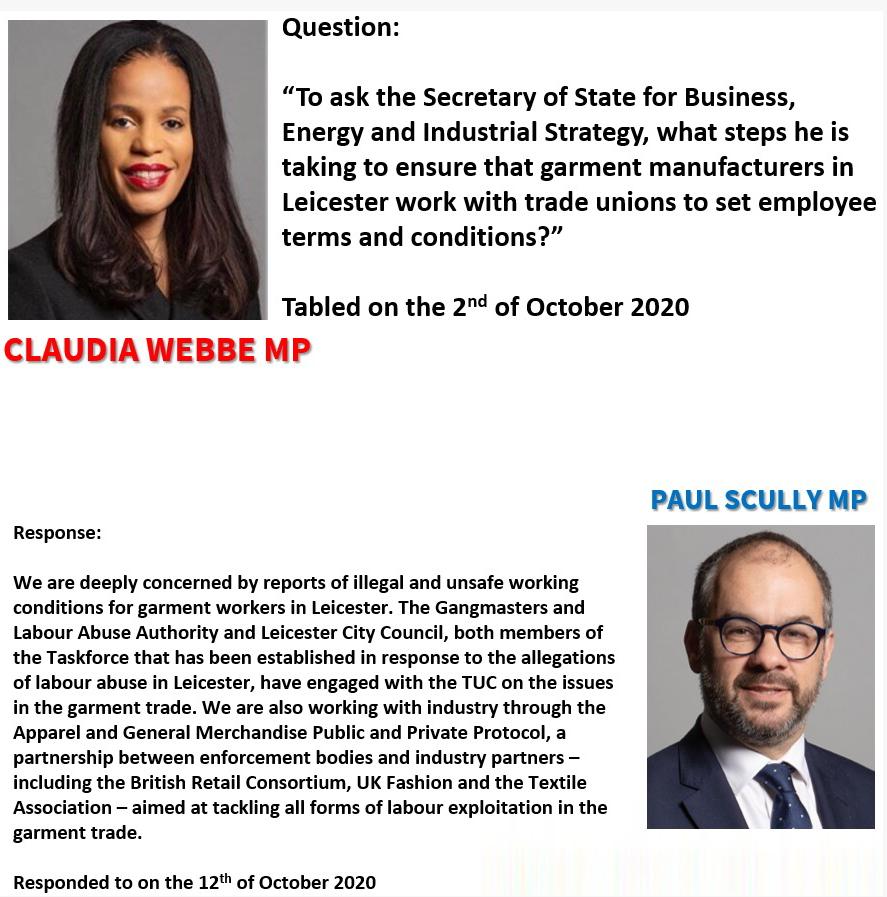 Tax Havens Covid 19 Financial Support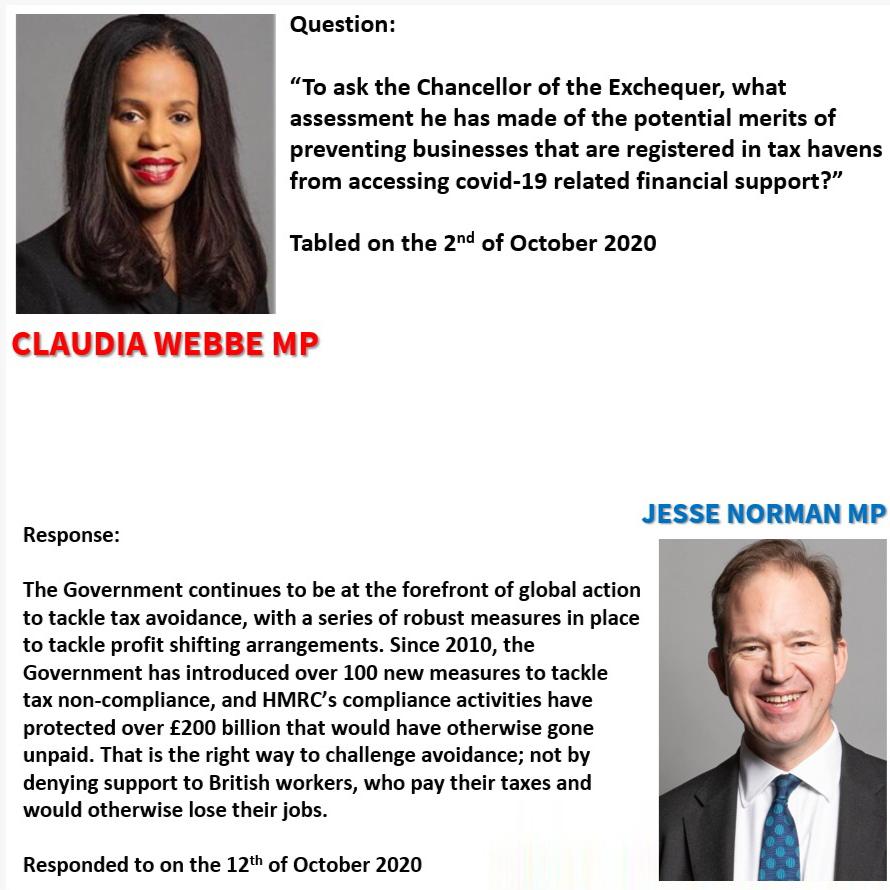 Retail Supply Chain Businesses - Retail, Hospitality and Leisure Scheme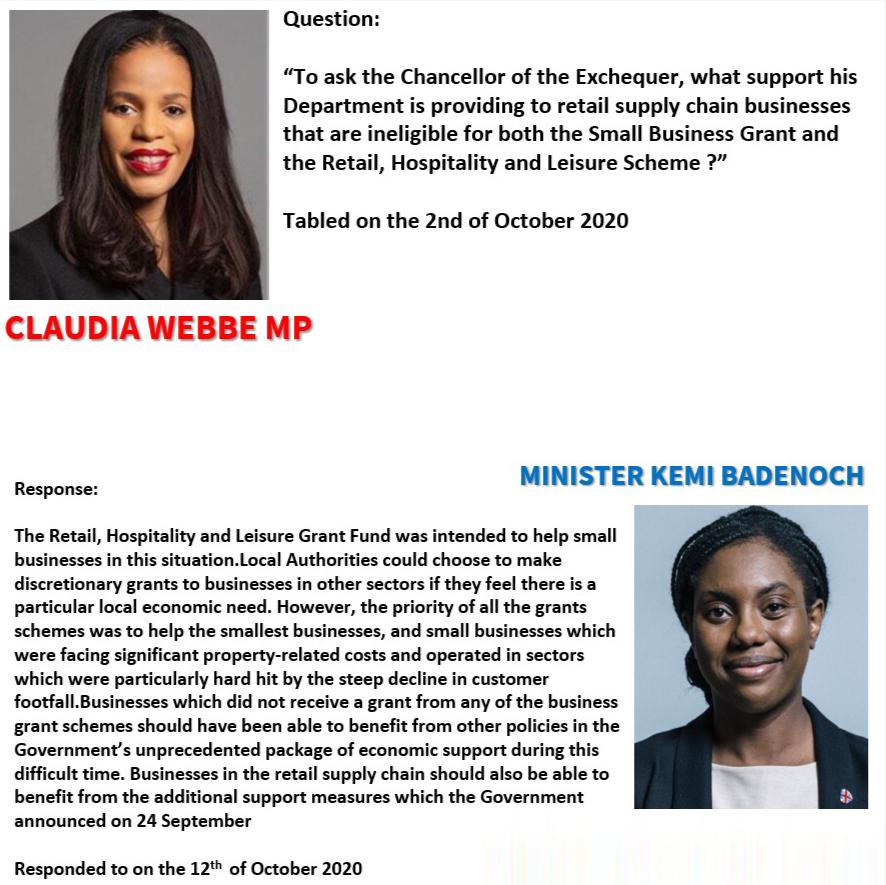 Real Living Wage Calculated by the Living Wage Foundation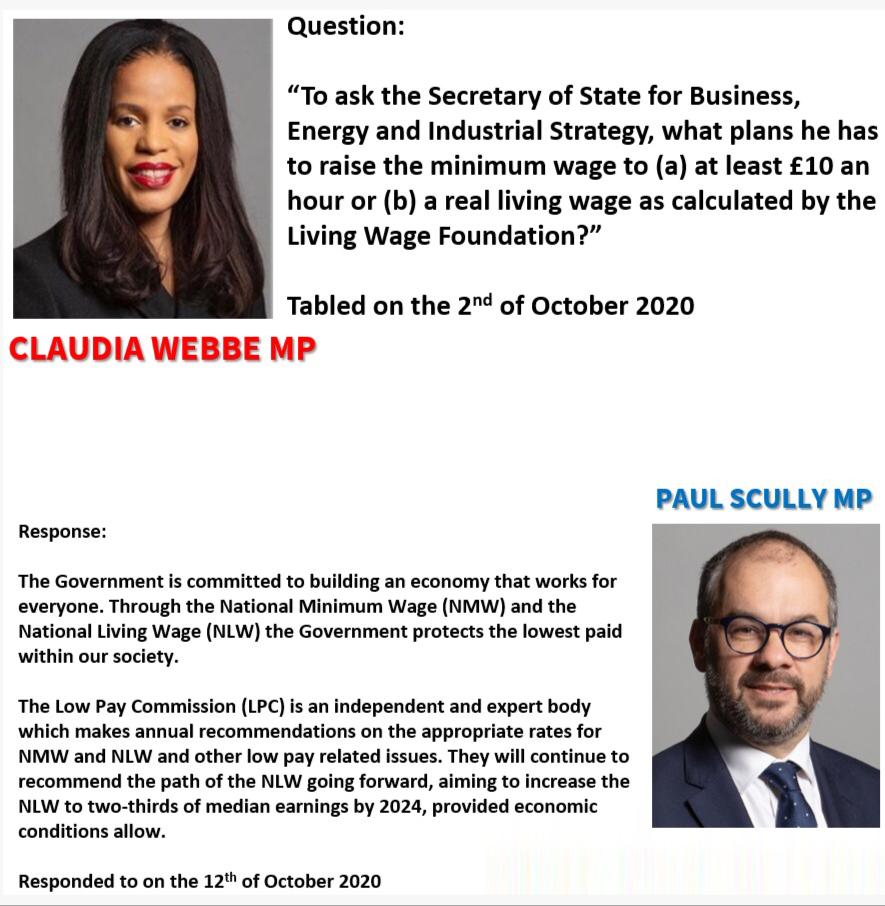 Plans for Workers Rights After Alison Levitt QC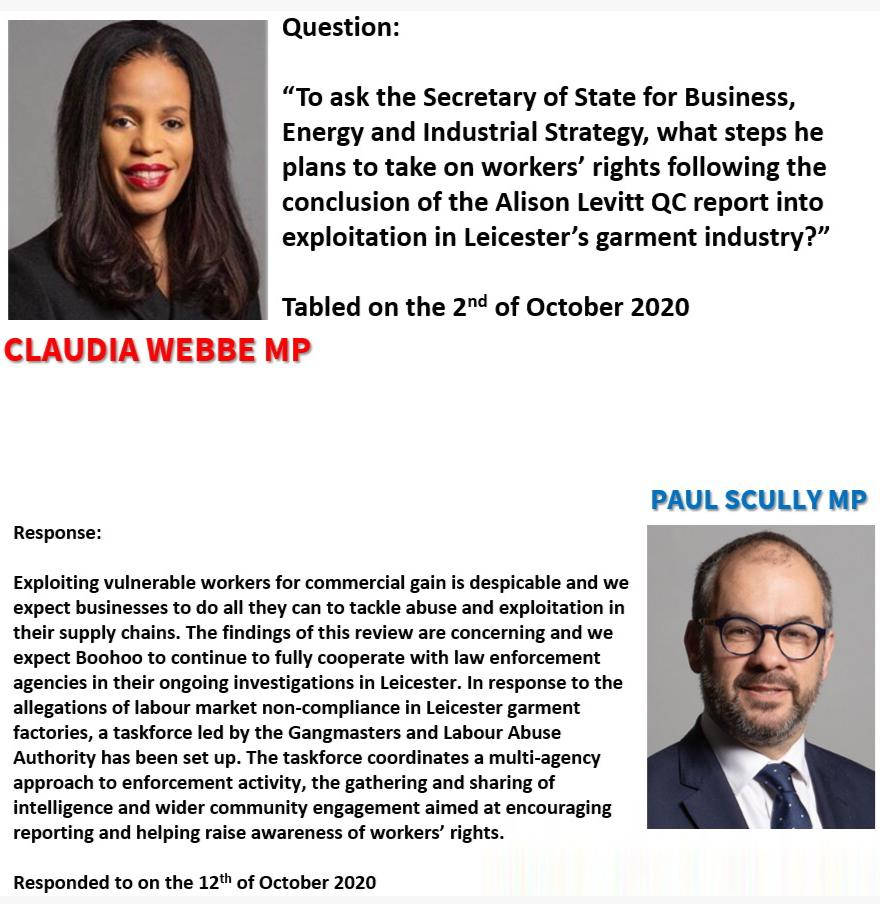 Overseas Workers who are Victims of Corporate Harm in the UK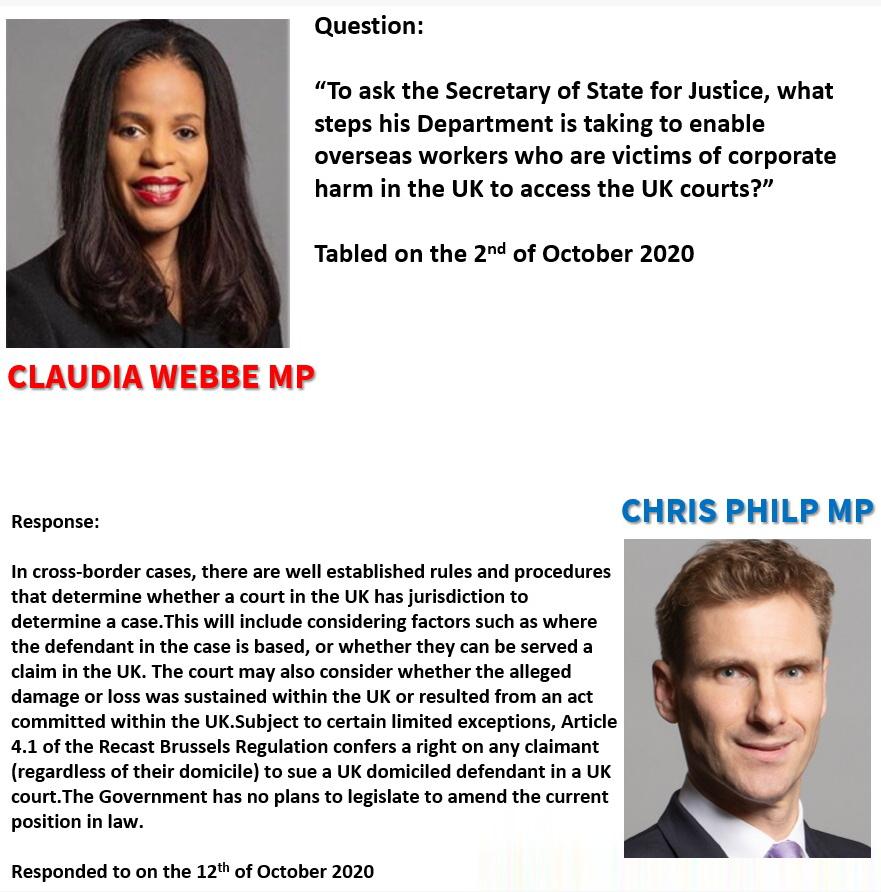 Local Government Debt to Fund Essential Services Covid19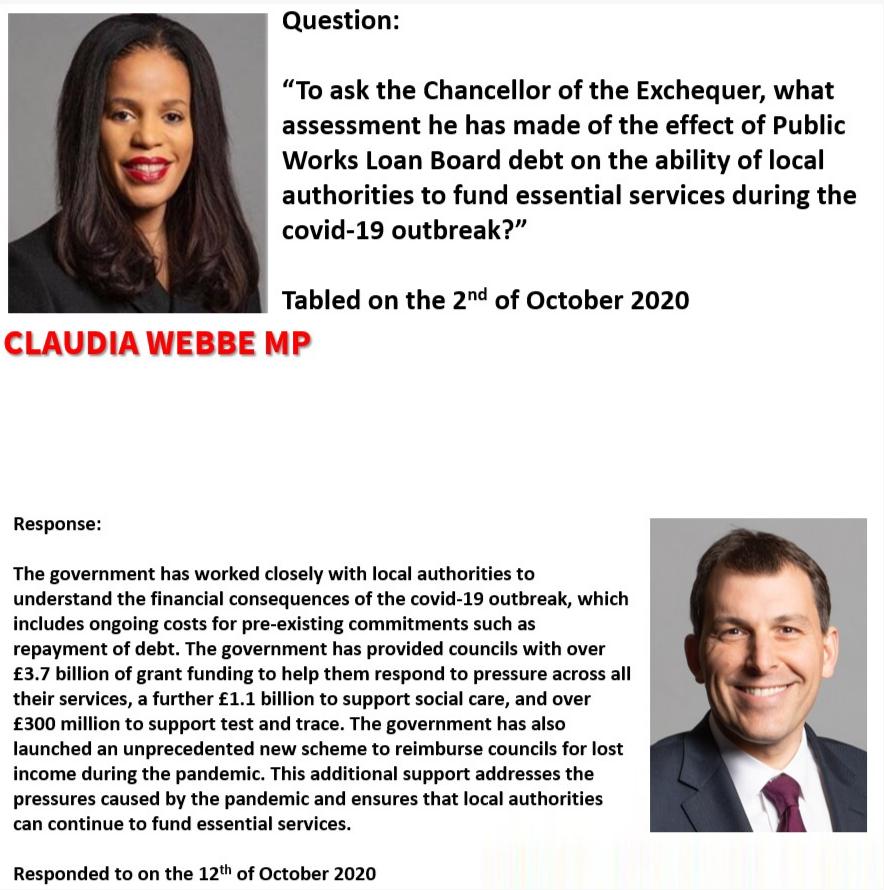 Judge-led Public Inquiry into Exploitation in Leicester's Garment Industry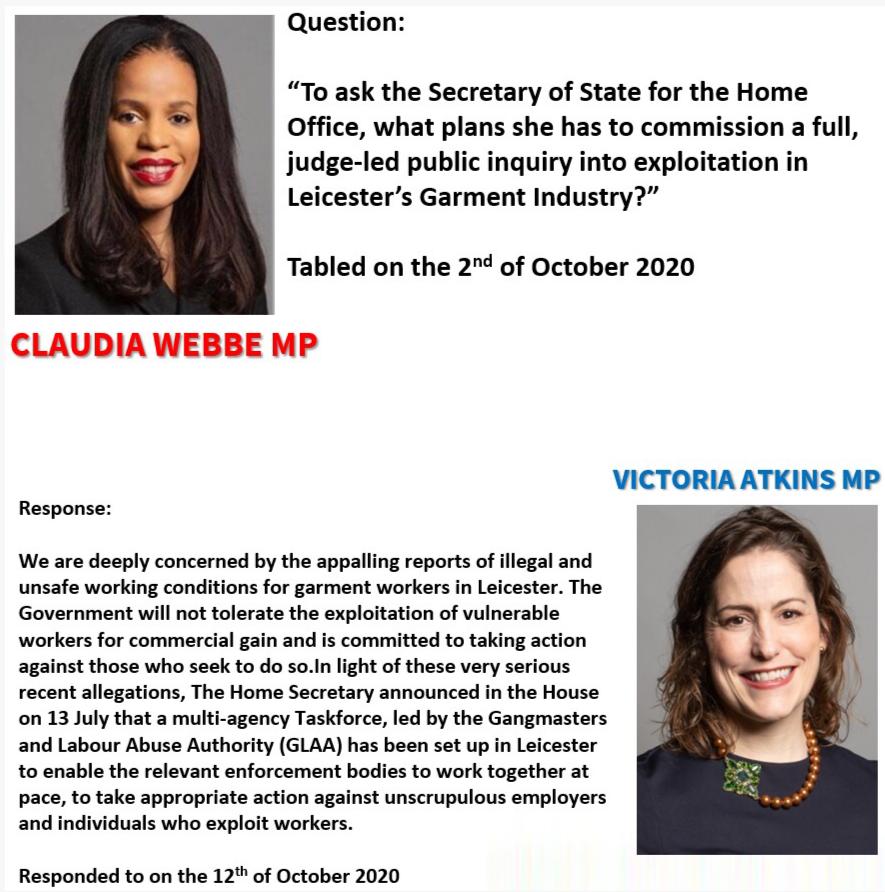 Hospitality Supply Chain - Access to the Retail, Hospitality and Leisure Grant Fund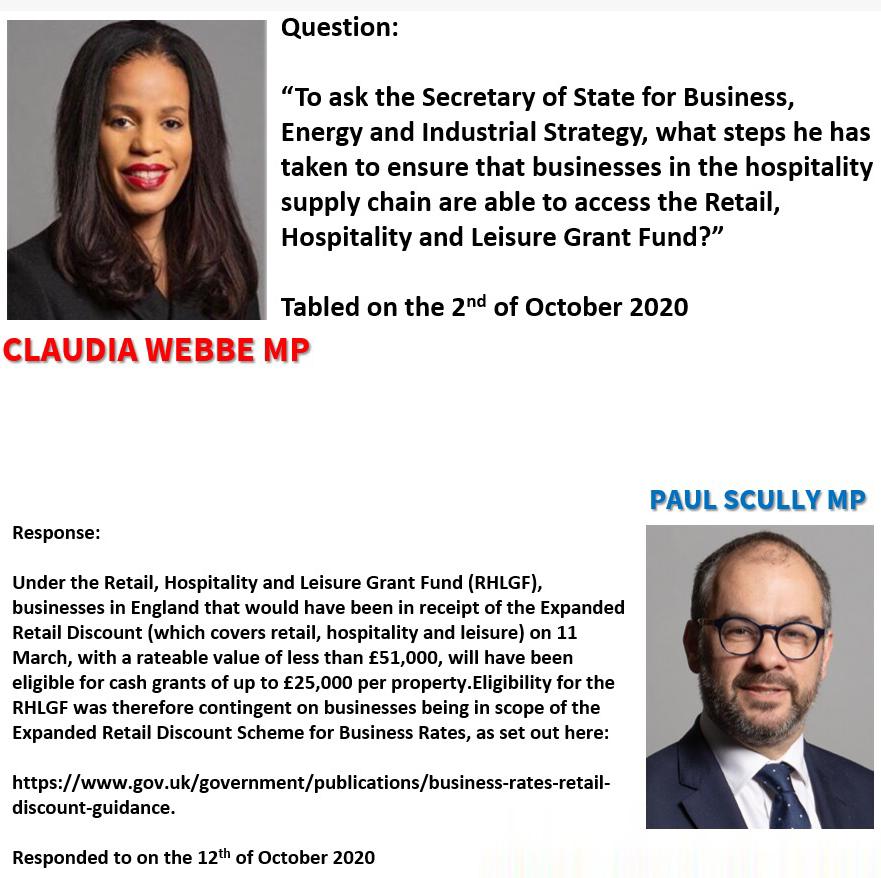 High Executive Pay - Covid19 Financial Support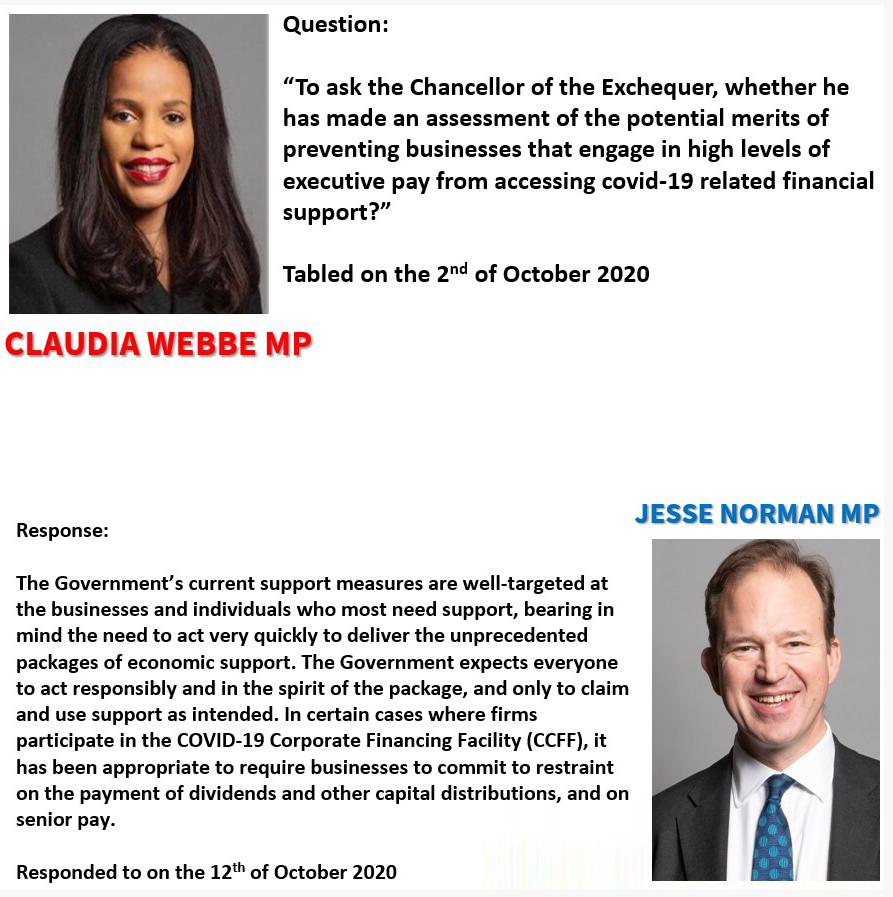 am supporting Emma Lewell Buck's #SchoolBreakfastBill, which will give schools thefunding they need to provide a nutritious free school breakfast to children at risk ofhunger. Latest figures show that 26,000 children in Leicester are growing up in povertyand I will campaign endlessly to support my constituency of Leicester East as no childshould be too hungry to learn.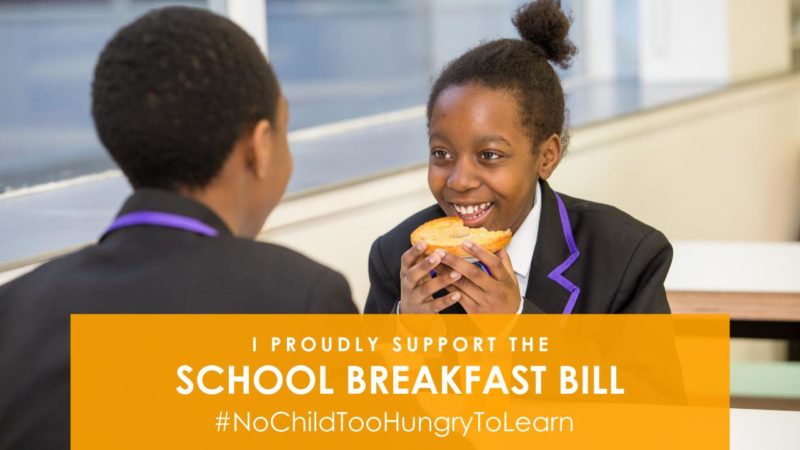 Today in Parliament there is a Westminster Hall debate on No Recourse to Public Funds.
Thousands of UK residents who are undocumented and those who have No Recourse to Public Funds (NRPF) have already been driven into destitution during this crisis. Recent Home Office statistics show that the number of migrants with NRPF who have applied for destitution funds increased dramatically, by 572% in the months spanning the coronavirus crisis.
The statistics also revealed that it took the Home Office an average of 30 days to decide on these life-or-death applications. In order to speed up the process and enable families to access emergency support, I have written to the Home Secretary to urge the HomeOffice to commit to making these decisions within 24 hours.
It is also appalling that the Home Office does not even record the number of UK residents with NRPF. Leicester East is home to many workers with NRPF, for whom it is impossible to survive without attending work – often in unsafe conditions. A significant number of workers inLeicester's crisis-struck Garment Industry who have approached me for help have the NRPF condition, are unaware of the small number of benefits that they are able to access, and are employed by unscrupulous firms which have no union recognition and where health and safety measures have not been implemented.
The government's justification for this cruel policy is that they are 'protecting public funds' by preventing vulnerable migrants from accessing basic benefits. Yet they do note exhibit this same frugality when handing out wasteful, multi-million contracts to private companies, or enabling billionaires and large corporations to evade tax.
The government must ensure that all migrants have automatic access to resources without fear of detention or deportation by permanently abolishing the NRPF provision.
It was a pleasure to join the The All Party Parliamentary Group for British Sikhs –excellently chaired by Preet Kaur Gill MP – for a Zoom virtual lobby yesterday. The theme was on "anti-Sikh hate", as outlined in Section 4 of the Sikh Manifesto.
Leicester has the largest Sikh community in the East Midlands and the eighth largestSikh community in England. I am proud of the multiculturalism and diversity of my home city, and the Sikh community contributes very significantly to our collective religious, cultural and political life.
Over the last few months, I have been working with members of the Sikh community to lobby the government to include a Sikh ethnic tick box in the Census order.
At a time when hate crime is rising, it has never been more important for communities to come together and unite. We must oppose any attempt to divide our communities based on nationality or religion.