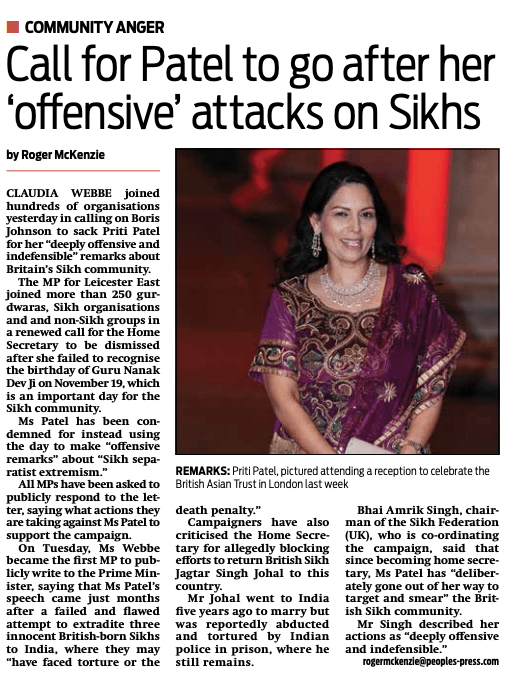 Call for Patel to go after her 'offensive' attacks on Sikhs
CLAUDIA WEBBE joined hundreds of organisations today in calling on Boris Johnson to sack Priti Patel for her "deeply offensive and indefensible" remarks about Britain's Sikh community.
The MP for Leicester East joined more than 250 gurdwaras, Sikh organisations and and non-Sikh groups in a renewed call for the Home Secretary to be dismissed after she failed to recognise the birthday of Guru Nanak Dev Ji on November 19, which is an important day for the Sikh community.
Ms Patel has been condemned for instead using the day to make "offensive remarks" about "Sikh separatist extremism."
All MPs have been asked to publicly respond to the letter, saying what actions they are taking against Ms Patel to support the campaign.
On Tuesday, Ms Webbe became the first MP to publicly write to the Prime Minister, saying that Ms Patel's speech came just months after a failed and flawed attempt to extradite three innocent British-born Sikhs to India, where they may "have faced torture or the death penalty."
Campaigners have also criticised the Home Secretary for allegedly blocking efforts to return British Sikh Jagtar Singh Johal to this country.
Mr Johal went to India five years ago to marry but was allegedly abducted and tortured by Indian police in prison, where he still remains.
Bhai Amrik Singh, chairman of the Sikh Federation (UK), who is co-ordinating the campaign, said that since becoming home secretary, Ms Patel has "deliberately gone out of her way to target and smear" the British Sikh community.
Mr Singh described her actions as "deeply offensive and indefensible."
Claudia Webbe MP is the member of Parliament for Leicester East. You can follow her at www.facebook.com/claudiaforLE and twitter.com/ClaudiaWebbe