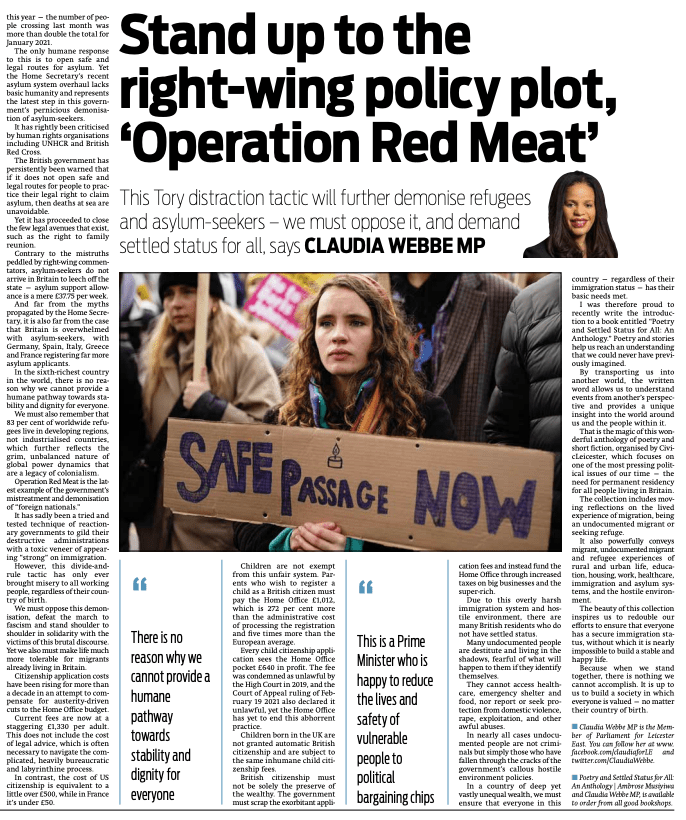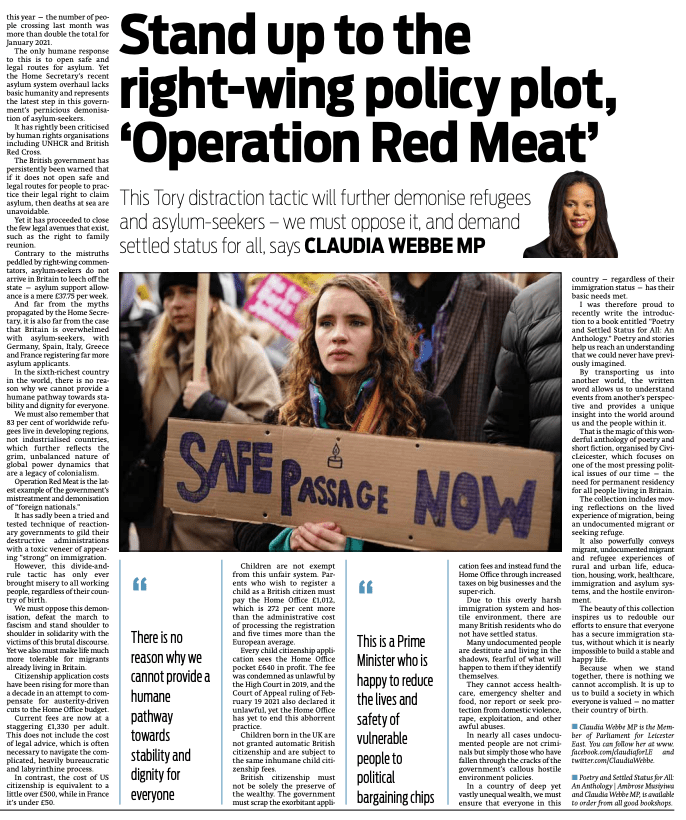 WHILE Parliament and the country are understandably focused on the Prime Minister's repeated mistruths over an apparently endless list of lockdown-breaking parties, the government is accelerating its demonisation of migrants, refugees and asylum-seekers.
Boris Johnson shamefully turned to the oldest trick in the reactionary playbook to distract from his flagrant lawbreaking.
During the prolonged "partygate" scandal, No 10 has been busy promoting toxic immigration policies to appease Tory MPs and stave off a vote of no confidence.
The government is plotting a series of policy announcements, codenamed Operation Red Meat, to help relieve pressure on the embattled Prime Minister.
Among the proposals is a plan to put the military in charge of stopping people from crossing the Channel in small boats to reach Britain.
Under the proposals, a rear admiral would direct the Border Force, coastguard, fisheries protection and customs and excise to keep track of and "intercept" those crossing the Channel.
People fleeing war and climate catastrophe would then be escorted to new "migrant hubs" on land for processing.
No 10 is also reportedly working on a scheme to send migrants to African countries such as Ghana and Rwanda "for processing and resettlement."
A few weeks ago in Parliament, the government confirmed plans to further militarise the border.
Downing Street policy "experts" have also looked into using powerful sonic weapons to turn back the boats. This would use long-range acoustic devices, such as those used in the US for crowd control, in the Channel.
These sound cannon emit noise powerful enough to induce vomiting. This is an abhorrent proposal that we must fight tooth and nail against ever being implemented.
The government's attempts to distract the public with a right-wing policy push, which further victimises refugees and asylum-seekers, is as dangerous as it is pathetic.
The fact that this comes just months after 27 people died trying to cross the Channel in November shows that there are no depths this government will not sink to to distract from its sleaze, arrogance and hypocrisy.
This is a Prime Minister who is happy to reduce the lives and safety of vulnerable people to political bargaining chips in a desperate attempt to save his own skin. I am grateful to trade unions, especially PCS, that have opposed this callous policy.
A record 28,300 migrants and refugees attempted to cross the Channel to Britain last year, more than three times the 8,400 who crossed in 2020.
There is no sign of a decline this year — the number of people crossing last month was more than double the total for January 2021.
The only humane response to this is to open safe and legal routes for asylum. Yet the Home Secretary's recent asylum system overhaul lacks basic humanity and represents the latest step in this government's pernicious demonisation of asylum-seekers.
It has rightly been criticised by human rights organisations including UNHCR and British Red Cross.
The British government has persistently been warned that if it does not open safe and legal routes for people to practice their legal right to claim asylum, then deaths at sea are unavoidable.
Yet it has proceeded to close the few legal avenues that exist, such as the right to family reunion.
Contrary to the mistruths peddled by right-wing commentators, asylum-seekers do not arrive in Britain to leech off the state — asylum support allowance is a mere £37.75 per week.
And far from the myths propagated by the Home Secretary, it is also far from the case that Britain is overwhelmed with asylum-seekers, with Germany, Spain, Italy, Greece and France registering far more asylum applicants.
In the sixth-richest country in the world, there is no reason why we cannot provide a humane pathway towards stability and dignity for everyone in this country.
We must also remember that 83 per cent of worldwide refugees live in developing regions, not industrialised countries, which further reflects the grim, unbalanced nature of global power dynamics that are a legacy of colonialism.
Operation Red Meat is the latest example of the government's mistreatment and demonisation of "foreign nationals."
It has sadly been a tried and tested technique of reactionary governments to gild their destructive administrations with a toxic veneer of appearing "strong" on immigration.
However, this divide-and-rule tactic has only ever brought misery to all working people, regardless of their country of birth.
We must oppose this demonisation, defeat the march to fascism and stand shoulder to shoulder in solidarity with the victims of this brutal discourse. Yet we also must make life much more tolerable for migrants already living in Britain.
Citizenship application costs have been rising for more than a decade in an attempt to compensate for austerity-driven cuts to the Home Office budget.
Current fees are now at a staggering £1,330 per adult. This does not include the cost of legal advice, which is often necessary to navigate the complicated, heavily bureaucratic and labyrinthine process.
In contrast, the cost of US citizenship is equivalent to a little over £500, while in France it's under £50.
Children are not exempt from this unfair system. Parents who wish to register a child as a British citizen must pay the Home Office £1,012, which is 272 per cent more than the administrative cost of processing the registration and five times more than the European average.
Every child citizenship application sees the Home Office pocket £640 in profit. The fee was condemned as unlawful by the High Court in 2019, and the Court of Appeal ruling of February 19 2021 also declared it unlawful, yet the Home Office has yet to end this abhorrent practice.
Children born in the UK are not granted automatic British citizenship and are subject to the same inhumane child citizenship fees.
British citizenship must not be solely the preserve of the wealthy. The government must scrap the exorbitant application fees and instead fund the Home Office through increased taxes on big businesses and the super-rich.
Due to this overly harsh immigration system and hostile environment, there are many British residents who do not have settled status.
Many undocumented people are destitute and living in the shadows, fearful of what will happen to them if they identify themselves.
They cannot access healthcare, emergency shelter and food, nor report or seek protection from domestic violence, rape, exploitation, and other awful abuses.
In nearly all cases undocumented people are not criminals but simply those who have fallen through the cracks of the government's callous hostile environment policies.
In a country of deep yet vastly unequal wealth, we must ensure that everyone in this country — regardless of their immigration status — has their basic needs met.
I was therefore proud to recently write the introduction to a book entitled "Poetry and Settled Status for All: An Anthology." Poetry and stories help us reach an understanding that we could never have previously imagined.
By transporting us into another world, the written word allows us to understand events from another's perspective and provides a unique insight into the world around us and the people within it.
That is the magic of this wonderful anthology of poetry and short fiction, organised by CivicLeicester, which focuses on one of the most pressing political issues of our time — the need for permanent residency for all people living in Britain.
The collection includes moving reflections on the lived experience of migration, being an undocumented migrant or seeking refuge.
It also powerfully conveys migrant, undocumented migrant and refugee experiences of rural and urban life, education, housing, work, healthcare, immigration and asylum systems, and the hostile environment.
The beauty of this collection inspires us to redouble our efforts to ensure that everyone has a secure immigration status, without which it is nearly impossible to build a stable and happy life.
Because when we stand together, there is nothing we cannot accomplish. It is up to us to build a society in which everyone is valued — no matter their country of birth.