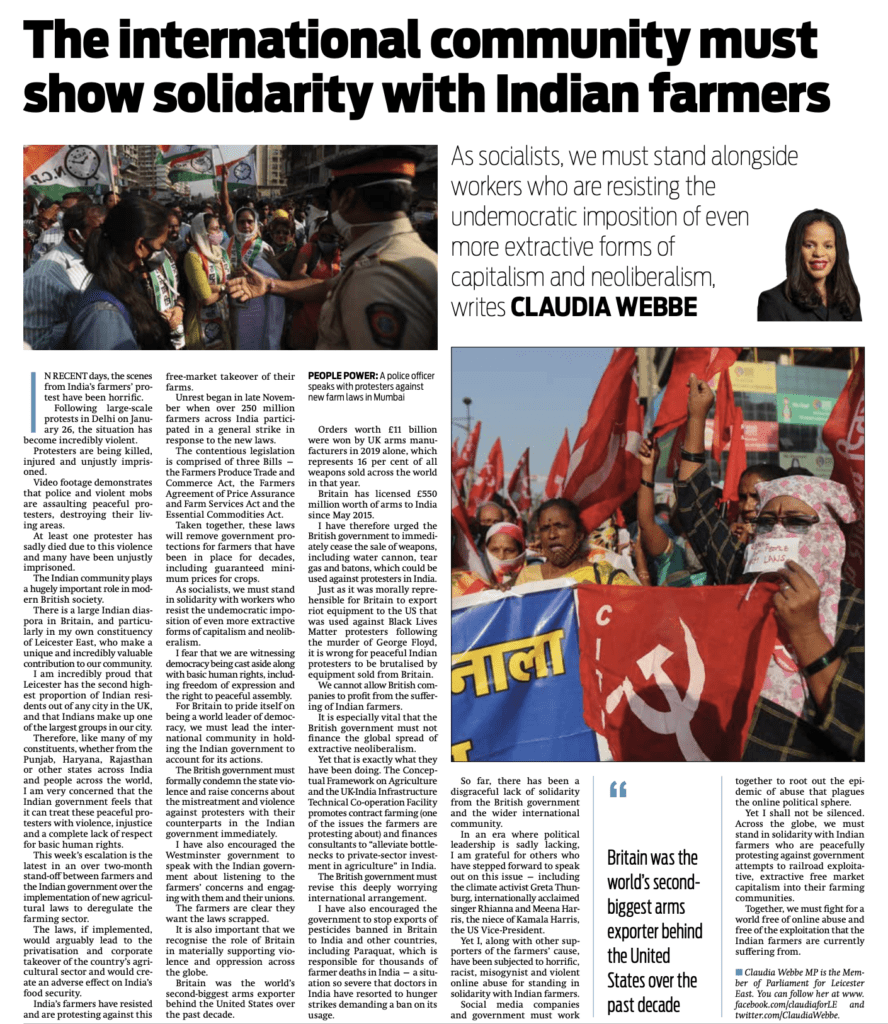 The international community must show solidarity with Indian farmers
By Claudia Webbe MP 
As socialists, we must stand alongside workers who are resisting the undemocratic imposition of even more extractive forms of capitalism and neoliberalism writes CLAUDIA WEBBE MP 
IN RECENT days, the scenes from India's farmers' protest have been horrific.
Following large-scale protests in Delhi on January 26, the situation has become incredibly violent.
Protesters are being killed, injured and unjustly imprisoned.
Video footage demonstrates that police and violent mobs are assaulting peaceful protesters, destroying their living areas.
At least one protester has sadly died due to this violence and many have been unjustly imprisoned.
The Indian community plays a hugely important role in modern British society.
There is a large Indian diaspora in Britain, and particularly in my own constituency of Leicester East, who make a unique and incredibly valuable contribution to our community.
I am incredibly proud that Leicester has the second highest proportion of Indian residents out of any city in the UK, and that Indians make up one of the largest groups in our city.
Therefore, like many of my constituents, whether from the Punjab, Haryana, Rajasthan or other states across India and people across the world, I am very concerned that the Indian government feels that it can treat these peaceful protesters with violence, injustice and a complete lack of respect for basic human rights.
This week's escalation is the latest in an over two-month stand-off between farmers and the Indian government over the implementation of new agricultural laws to deregulate the farming sector.
The laws, if implemented, would arguably lead to the privatisation and corporate takeover of the country's agricultural sector and would create an adverse effect on India's food security.
India's farmers have resisted and are protesting against this free-market takeover of their farms.
Unrest began in late November when over 250 million farmers across India participated in a general strike in response to the new laws.
The contentious legislation is comprised of three Bills — the Farmers Produce Trade and Commerce Act, the Farmers Agreement of Price Assurance and Farm Services Act and the Essential Commodities Act.
Taken together, these laws will remove government protections for farmers that have been in place for decades, including guaranteed minimum prices for crops.
As socialists, we must stand in solidarity with workers who resist the undemocratic imposition of even more extractive forms of capitalism and neoliberalism.
I fear that we are witnessing democracy being cast aside along with basic human rights, including freedom of expression and the right to peaceful assembly.
For Britain to pride itself on being a world leader of democracy, we must lead the international community in holding the Indian government to account for its actions.
The British government must formally condemn the state violence and raise concerns about the mistreatment and violence against protesters with their counterparts in the Indian government immediately.
I have also encouraged the Westminster government to speak with the Indian government about listening to the farmers' concerns and engaging with them and their unions.
The farmers are clear they want the laws scrapped.
It is also important that we recognise the role of Britain in materially supporting violence and oppression across the globe.
Britain was the world's second-biggest arms exporter behind the United States over the past decade.
Orders worth £11 billion were won by UK arms manufacturers in 2019 alone, which represents 16 per cent of all weapons sold across the world in that year.
Britain has licensed £550 million worth of arms to India since May 2015.
I have therefore urged the British government to immediately cease the sale of weapons, including water cannon, tear gas and batons, which could be used against protesters in India.
Just as it was morally reprehensible for Britain to export riot equipment to the US that was used against Black Lives Matter protesters following the murder of George Floyd, it is wrong for peaceful Indian protesters to be brutalised by equipment sold from Britain.
We cannot allow British companies to profit from the suffering of Indian farmers.
It is especially vital that the British government must not finance the global spread of extractive neoliberalism.
Yet that is exactly what they have been doing. The Conceptual Framework on Agriculture and the UK-India Infrastructure Technical Co-operation Facility promotes contract farming (one of the issues the farmers are protesting about) and finances consultants to "alleviate bottlenecks to private-sector investment in agriculture" in India.
The British government must revise this deeply worrying international arrangement.
I have also encouraged the government to stop exports of pesticides banned in Britain to India and other countries, including Paraquat, which is responsible for thousands of farmer deaths in India — a situation so severe that doctors in India have resorted to hunger strikes demanding a ban on its usage.
So far, there has been a disgraceful lack of solidarity from the British government and the wider international community.
In an era where political leadership is sadly lacking, I am grateful for others who have stepped forward to speak out on this issue — including the climate activist Greta Thunburg, internationally acclaimed singer Rhianna and Meena Harris, the niece of Kamala Harris, the US Vice-President.
Yet I, along with other supporters of the farmers' cause, have been subjected to horrific, racist, misogynist and violent online abuse for standing in solidarity with Indian farmers.
Social media companies and government must work together to root out the epidemic of abuse that plagues the online political sphere.
Yet I shall not be silenced. Across the globe, we must stand in solidarity with Indian farmers who are peacefully protesting against government attempts to railroad exploitative, extractive free market capitalism into their farming communities.
Together, we must fight for a world free of online abuse and free of the exploitation that the Indian farmers are currently suffering from.
Claudia Webbe MP is the member of Parliament for Leicester East. You can follow her at www.facebook.com/claudiaforLE and twitter.com/ClaudiaWebbe