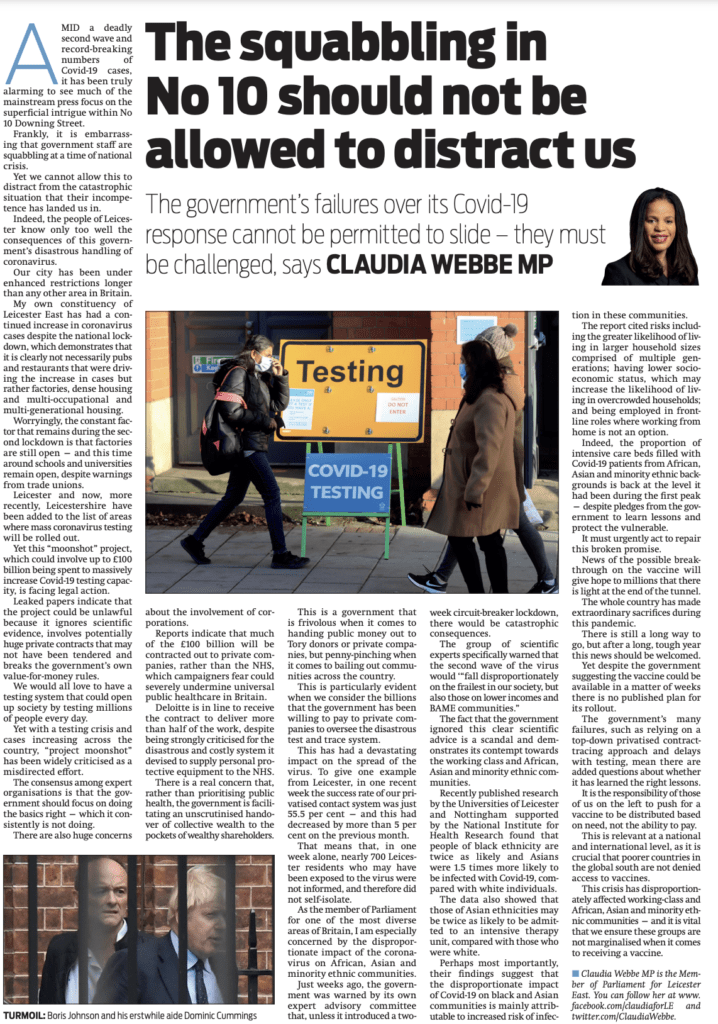 The squabbling in No 10 should not be allowed to distract us 
By Claudia Webbe MP
The government's failures over its Covid-19 response cannot be permitted to slide – they must be challenged, says CLAUDIA WEBBE MP
AMID a deadly second wave and record-breaking numbers of Covid-19 cases, it has been truly alarming to see much of the mainstream press focus on the superficial intrigue within No 10 Downing Street.
Frankly, it is embarrassing that government staff are squabbling at a time of national crisis.
Yet we cannot allow this to distract from the catastrophic situation that their incompetence has landed us in.
Indeed, the people of Leicester know only too well the consequences of this government's disastrous handling of coronavirus.
Our city has been under enhanced restrictions longer than any other area in Britain.
My own constituency of Leicester East has had a continued increase in coronavirus cases despite the national lockdown, which demonstrates that it is clearly not necessarily pubs and restaurants that were driving the increase in cases but rather factories, dense housing and multi-occupational and multi-generational housing.
Worryingly, the constant factor that remains during the second lockdown is that factories are still open — and this time around schools and universities remain open, despite warnings from trade unions.
Leicester and now, more recently, Leicestershire have been added to the list of areas where mass coronavirus testing will be rolled out.
Yet this "moonshot" project, which could involve up to £100 billion being spent to massively increase Covid-19 testing capacity, is facing legal action.
Leaked papers indicate that the project could be unlawful because it ignores scientific evidence, involves potentially huge private contracts that may not have been tendered and breaks the government's own value-for-money rules.
We would all love to have a testing system that could open up society by testing millions of people every day.
Yet with a testing crisis and cases increasing across the country, "project moonshot" has been widely criticised as a misdirected effort.
The consensus among expert organisations is that the government should focus on doing the basics right — which it consistently is not doing.
There are also huge concerns about the involvement of corporations.
Reports indicate that much of the £100 billion will be contracted out to private companies, rather than the NHS, which campaigners fear could severely undermine universal public healthcare in Britain.
Deloitte is in line to receive the contract to deliver more than half of the work, despite being strongly criticised for the disastrous and costly system it devised to supply personal protective equipment to the NHS.
There is a real concern that, rather than prioritising public health, the government is facilitating an unscrutinised handover of collective wealth to the pockets of wealthy shareholders.
This is a government that is frivolous when it comes to handing public money out to Tory donors or private companies, but penny-pinching when it comes to bailing out communities across the country.
This is particularly evident when we consider the billions that the government has been willing to pay to private companies to oversee the disastrous test and trace system.
This has had a devastating impact on the spread of the virus. To give one example from Leicester, in one recent week the success rate of our privatised contact system was just 55.5 per cent — and this had decreased by more than 5 per cent on the previous month.
That means that, in one week alone, nearly 700 Leicester residents who may have been exposed to the virus were not informed, and therefore did not self-isolate.
As the member of Parliament for one of the most diverse areas of Britain, I am especially concerned by the disproportionate impact of the coronavirus on African, Asian and minority ethnic communities.
Just weeks ago, the government was warned by its own expert advisory committee that, unless it introduced a two-week circuit-breaker lockdown, there would be catastrophic consequences.
The group of scientific experts specifically warned that the second wave of the virus would '"fall disproportionately on the frailest in our society, but also those on lower incomes and BAME communities."
The fact that the government ignored this clear scientific advice is a scandal and demonstrates its contempt towards the working class and African, Asian and minority ethnic communities.
Recently published research by the Universities of Leicester and Nottingham supported by the National Institute for Health Research found that people of black ethnicity are twice as likely and Asians were 1.5 times more likely to be infected with Covid-19, compared with white individuals.
The data also showed that those of Asian ethnicities may be twice as likely to be admitted to an intensive therapy unit, compared with those who were white.
Perhaps most importantly, their findings suggest that the disproportionate impact of Covid-19 on black and Asian communities is mainly attributable to increased risk of infection in these communities.
The report cited risks including the greater likelihood of living in larger household sizes comprised of multiple generations; having lower socioeconomic status, which may increase the likelihood of living in overcrowded households; and being employed in front-line roles where working from home is not an option.
Indeed, the proportion of intensive care beds filled with Covid-19 patients from African, Asian and minority ethnic backgrounds is back at the level it had been during the first peak — despite pledges from the government to learn lessons and protect the vulnerable.
It must urgently act to repair this broken promise.
News of the possible breakthrough on the vaccine will give hope to millions that there is light at the end of the tunnel.
The whole country has made extraordinary sacrifices during this pandemic.
There is still a long way to go, but after a long, tough year this news should be welcomed.
Yet despite the government suggesting the vaccine could be available in a matter of weeks there is no published plan for its rollout.
The government's many failures, such as relying on a top-down privatised contract-tracing approach and delays with testing, mean there are added questions about whether it has learned the right lessons.
It is the responsibility of those of us on the left to push for a vaccine to be distributed based on need, not the ability to pay.
This is relevant at a national and international level, as it is crucial that poorer countries in the global south are not denied access to vaccines.
This crisis has disproportionately affected working-class and African, Asian and minority ethnic communities — and it is vital that we ensure these groups are not marginalised when it comes to receiving a vaccine.
Claudia Webbe MP is the member of Parliament for Leicester East. You can follow her at www.facebook.com/claudiaforLE and twitter.com/ClaudiaWebbe